In Memoriam
Remembering Michael on the first annivesary of his untimely passing 28.10.2012
He will always be in our hearts and prayers and remembered with love and affection by his family and friends.
Requiescat in Pace Michael.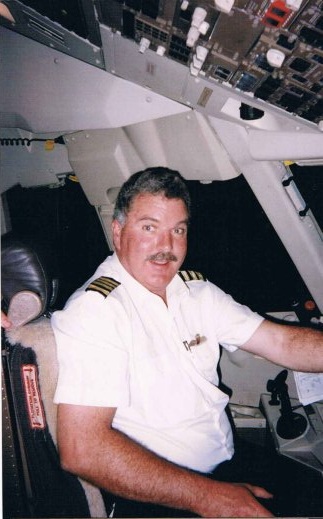 Michael Joseph Fitzgerald
11.09.1954 - 28.10.2012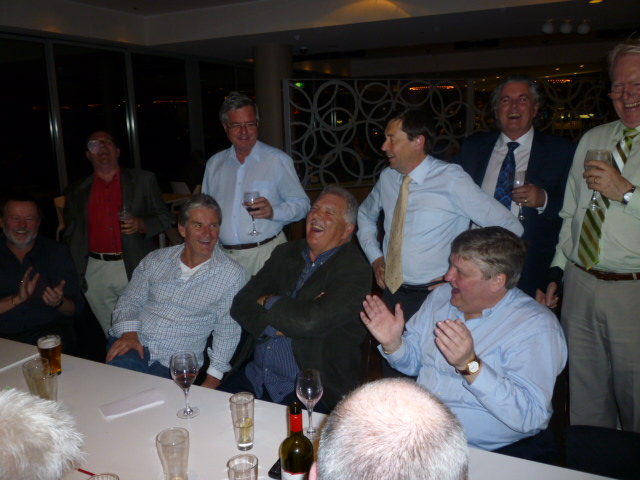 Fitzy holding court and thoroughly enjoying himself
at our 2010 dinner!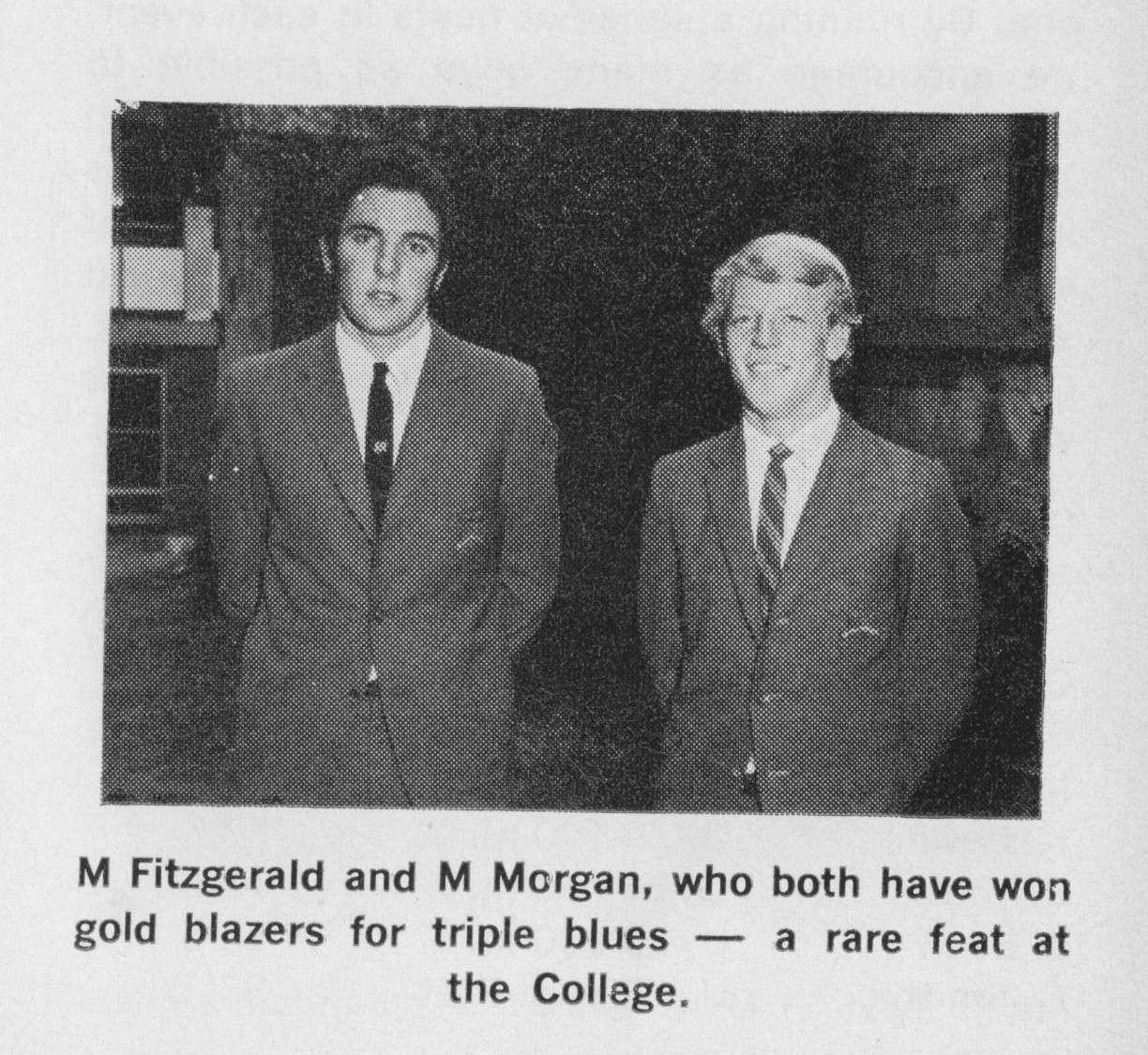 It has been wonderful to reconnect with him over the last two and a half years and particularly at our 1972 Class get together in 2010 at the College and then dinner at the Kirribilli Club. I have attached two great images in particular of Michael Fitzgerald which I think one can describe as the quintessential "Fitzy".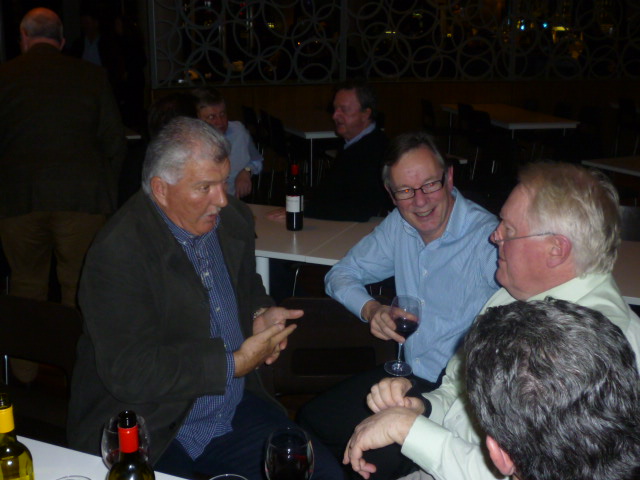 Fitzy speaking with Graham Bornholt, Vince Sweeny and Ian Troy
On behalf of the SAC 1972 class I would like to extend our deepest sympathy to Mary-Anne and Michael's children, Julia, Kate and Michael, his father, Michael senior and Mrs Lindsay Fitzgerald and Damian, Michael's brother.

We are all thinking of you and keeping you in our prayers at this time.
Eternal Rest grant unto Michael Fitzgerald O Lord and may your perpetual Light shine upon him and may he rest in peace.

In paradisum deducant te Angeli:
in tuo adventu suscipiant te Martyres,
et perducant te in civitatem sanctam Ierusalem.
Chorus Angelorum te suscipiat,
et cum Lazaro quondam paupere æternam habeas requiem.
May Angels lead you into paradise;
may the Martyrs receive you at your coming
and lead you to the holy city of Jerusalem.
May a choir of Angels receive you,
and with Lazarus, who once was poor, may you have eternal rest.
************************************************************************************************************************
Eulogy by Michael's close friend and fellow pilot Peter Boswell

at Mike's Requiem Mass on

All Souls Day

Friday 2nd of November 2012 at 10.15am
Our Lady of Dolours Church Chatswood
Eulogy for Mike
We are gathered here today to celebrate Mike's life.
Many of you would say the celebrating has already been done!!
And you would be quite correct.
Mike's whole life was one continuous celebration.
He loved life and he lived it to the full.
Mike attended Saint Aloysius, at Milsons Point.
He excelled both academically and in sport.
He was also a Prefect, House Captain and Vice Captain in both cricket and athletics.
The Aloysius school motto is "Ad Majora Nartus", which translated means,
"Born for Greater Things"! Obviously Mike never forgot this, as tedium was never part of his life!
He celebrated his final year by winning the prestigious Gold Blazer for achieving full colours in three sporting disciplines, Rugby, Cricket and Athletics.
I first met Michael Joseph Fitzgerald, also known as "The Big Boy", "The Big Fella" or just "Fitzy", on 2nd April 1980, the day we joined Qantas, along with Dave Oliver and Pete Caws.
We felt very privileged to be on the first pilot intake at Qantas in 9 years and the competition to secure a place had been fierce.
The first day was spent sizing each other up like 4 roosters in a chook pen.
It only took me a few hours to realise that Mike was going to be the head rooster as he lead us to the local pub to celebrate our good fortune and a lifelong friendship was formed.
It was soon obvious to all in Qantas that Mike was a natural pilot and a good bloke to go flying with. Flying to Mike was a breeze and he excelled at both the theory and practical side of all the courses he undertook. He rose to the rank of Check and Training Captain where he coaxed the best out of many trainee pilots and helped them celebrate their achievements along the way. Mike had a simple philosophy to training, "Just Do It", and for this reason I called him Captain Nike!
Today everyone is here for the same reason.
We loved Mike, he was a wonderful person and we enjoyed being around him as he held court!
His roguish, Irish humour and ability to tell a good yarn was infectious.
He was self deprecating as most of the stories were about his own shortcomings.
He made us laugh till we cried and we would celebrate!
This is the Mike we all knew.
There are a thousand stories about Mike, and I would love to invite each and every one of you to come up here and share your favourite story!
Unfortunately we would still be here tomorrow and most of them would not be appropriate at this venue! You have heard most them anyway!
Like the time he locked himself out of his room in LA, in his usual sleeping attire!
And the time he convinced the room maid to open the door to a room that wasn't his!
Not to mention the legendary celebrations at Fatties Eating House in Singapore.
But there was another side to Mike that I would like to share with you today, a side not everyone got to see!
Mike at times could be a quiet, solitary person, and a romantic.
He was an avid reader who loved to read non-fiction books about history, explorers, adventurers and biographies of great men.
Some of them included Genghis Khan, Attila the Hun and Chiang Kai Shek!
He would devour these stories and celebrate their conquests with great gusto!
He loved trout fishing, which he learnt to appreciate at an early age from his Father,
Mike senior.
Mike's heaven on earth was fishing on Lake Eucumbene and Lake Jindabyne.
I had the privilege to join him on several occasions during winter when the snow on Mt Kosciusko was un-skiable, well for us anyway!
It was while fishing I first heard mike quote the Latin poets!
I got to appreciate Mike's enthusiasm for pitting his wits against the wily trout.
He would give me THAT look, and say "Their down there Bozzy".
Needless to say we didn't catch any fish but we celebrated anyway!
Another of his great loves was sailing. Many wonderful days were spent on the water enjoying the tussle against the wind and waves, while he was dreaming and plotting his next BIGGER boat.
Along with Geoff Molesworth and Mark Sullivan, we celebrated his passion to be out on the water and at one with nature.
He also loved entertaining; many a wonderful night or day has been had at the Fitzgerald's home, celebrating new and old friends alike. Their hospitality was unrivalled. Thank you Mary-Anne.
But Mike's greatest love and passion was for his family.
When you had the rare opportunity to have Mike to yourself, one on one, when he was not holding court, or waxing lyrical – he would talk of his love and dedication to his family.
Mike was not perfect, as I am sure Mary-Anne, Julia, Kate and Michael will tell you.
He could be very demanding at times, overbearing, and pigheaded.
He was a stickler for good manners and would never compromise!
However Mike was a gentleman and he was a very gentle man!
And he would do anything for his family!
So my good mate as you head off to your final destination, remember that all men die,
but few men really live, and you my friend really lived.
I know Chris and Phil will be there waiting to help you celebrate.
Thank you for all the laughs, we will miss you but never forget you.

You were a brother to me.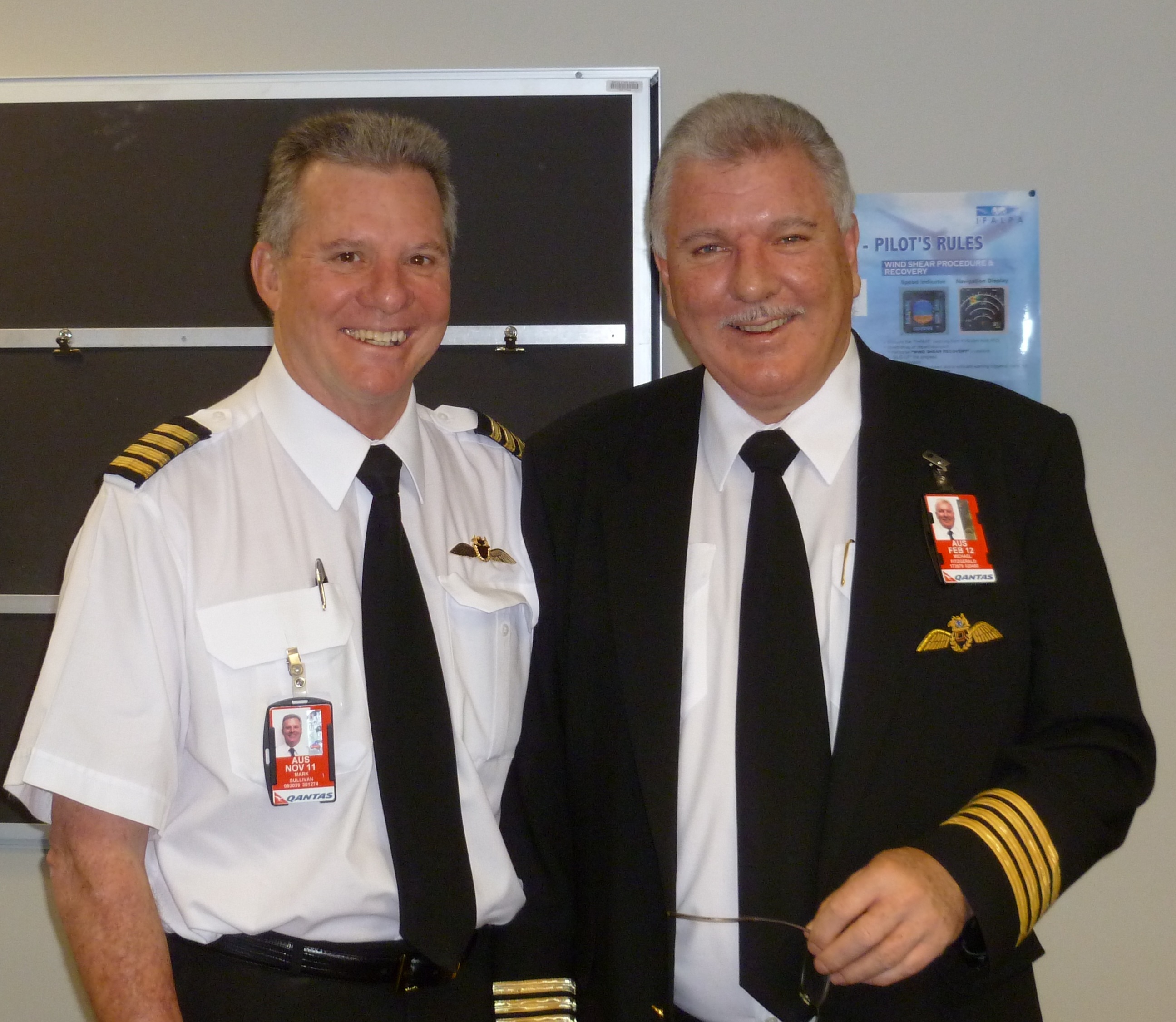 Mark Sullivan & Michael

**************************************************************************************************************
A Reflection by Geoff Hickey, close friend and fellow pilot
I first met Michael Joseph Fitzgerald on the 31st May 1974. I know this because it is written in my first Pilots Log Book as a "weight check", a flight used to allow a new pilot to become familiar with a fully laden aircraft. Looking at Mike at the time, I thought "good call!"
That is 14,034 days, or 38 years, 5 months, 1 day. A long time to have a friend.
Not that we became friends straight away - after all one smart aleck usually doesn't like another smart aleck - but over time we found we had one important thing in common. We could make each other laugh. And Mike loved to laugh, so my ego played on that I tried to make him laugh. His quick, and often acerbic wit would likewise have me in stitches of laughter. He was the master of the, at times, inappropriate comment made light because of the delivery or the accompanying laughter. Mike always liked his own jokes.




We became flying instructors together, and looking through my log book there are familiar names that became his colleagues in Qantas. Mike, Tim Jones and myself became, probably the luckiest, most arrogant and under qualified instructors at the Australian Flying Training School - or as Mike would call it - the "Teenage Flying School". Our boss liked to call us the three musketeers - more like the three stooges. It was during these times that Tim and Mike developed the sophisticated party trick of stripping down to their Y-fronts and then pretend they were Sumo wrestlers. It was during these years that Mike and Mary Anne first met, although it would be a few years yet before they became inseparable.
It was also at this time that I discovered another important thing about Mike. His absolute love of and complete mastery of the art of flying. He remains to this day, the smoothest pilot I have ever flown with, and other pilots will know what I am speaking about. He was a part of the aircraft, could feel it and knew exactly how to make it perform as he wanted. This was the incongruity - a large, seemingly " bargey" man being so gentle an so precise. To me, he will always be my idea of the best pilot, and as a pilot, I don't think I could pay him a higher compliment.
Our careers took different paths in aviation with Mike joining, in his fathers' footsteps, his favourite, Qantas. If an aircraft was made for Mike Fitzgerald it was the Boeing 747, and I thank Mr. Boeing for making it for him. He just looked right in that aircraft. But Mike was always concerned for me, always wanting to know how the family and myself were coping with various company and country changes, and it was here when our families became fast friends. Mike would always say to me, "I'll look after you little fella!' and I knew he meant it. When we were together we would spend hours, at our wives' bemusement, talking about our retirement fishing/flying/camping/travelling/farming/sailing lifestyles. But it was always to be together. Then, of course, Mike would make a joke, we would quote Monty Python, and laugh.
Mike was no shrinking violet - he loved being amongst a group and leading or dominating the conversation. After pointing this out to him on several occasions in my most diplomatic manner, he would of course tell me to mind my own business, and, in fact, he was the most interesting person in the room, "so be quiet! " , to which he would call me a derogatory term. So we all knew the pompous, bombastic Mike, but I also knew the generous, loving and caring Mike. The man who would unflinchingly offer me and my family any assistance we may require and the sensitive Mike who cried when I told him of my fathers' death. We had a friendship that meant something to us both and to me in particular and I feel blessed to have had it. We always parted, not with a handshake, but with a hug. He used to tell me he loved me and I knew it.
Our good friend, Tim Jones, sent me an email after I told him of Mikes'
passing. Words that I could never put together but says it all, and I thank Tim for this. He said -
"I loved what we three did together. I loved what we did while separated. I always felt fortunate just to be counted amongst his friends; but in fact we were amongst his closest friends. He was like part of the family. Happily, I told him just that not so long ago, and he was so pleased. I can't tell you how glad we were accidentally all together that night at his house for dinner recently."
I too loved what we had. I wouldn't swap those 14,000 odd days for anything.
I knew Mike, that you and Mary Anne were there for my family and me and that is something I will always respect about you.
So big fella, there will be no more talk about how flying isn't what it used to be, or making plans for our communal farm or making ourselves cry with laughter over some stupid comment. No more dinners or barbeques or trips to the boat show together.
But you have left me with the love of a friendship I can never forget, nor would I ever want to. Farewell my good friend, wherever your travels take you.