EULOGY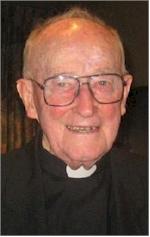 for

Fr Tom O'Donovan SJ
by
Paul Brogan
Good morning ladies and gentlemen,
It is a great privilege to be standing before you to say a few words about our most spiritual, thoughtful and humble friend.
Father Tom would often remind me that after seven minutes you lose the congregation. I would feel compelled to reply HOW could you lose a congregation of this size. Indeed it is a fitting testament to the man that so many people are here to remember him today. And don't worry I wouldn't dream of going against the wise one- I'll keep it short, or as Father Tom would say, prepare well to say less!

We all have so many cherished memories of Father Tom. Over the past few days, friends of Father Tom's (NOW, wouldn't that be an amazing head count) have been keen to share their special memories of this giant among us. It is as if he has reached into our hearts and souls and left his gift of peace and joy with us. Actually many people have mentioned to me that Father Tom left them with those feelings.
Let me introduce myself, my name is Paul Brogan. I have had the privilege of knowing Father Tom firstly as my Rector at St Aloysius, then as a teacher at St Ignatius College. I have also had the honour of co coaching rowing with Father Tom for 7 years. In addition to this Father Tom was incredibly kind to my Father and my family before and after my Father passed away in 1977. It was at this time that Father Tom introduced me to the joys of The Indian Bazaar, and there began another close long association. Throughout my adult life, I have also had the amazing privilege of spending time with this great man, and the esteemed honour of calling him my friend.
I have a few experiences and stories of my own that I would very much like to share with you. I hope they go part of the way towards highlighting the beautiful and numerous gifts this man was blessed with.

My earliest story goes back to when as a small boy in year 3 I came to the crossing in front of St Aloyisius College. There stood Father Tom, Rector and lollipop man rolled into one. The custom at the time when approaching a master was to look up at him and doff your boater. I hope I remembered my manners that day but I can't recall for certain. What I can recall vividly was how Father Tom took it upon himself to remember the Christian names of each boy at the College. It didn't matter if you were a new-comer, young or old, sporting hero or not. You might say an impossible task, but then you could never underestimate the determined nature of Father Tom to complete a task. This always reminds me of his belief in equality. Each and every one of us was seen by him as unique and deserving of equal attention and respect. He had the wonderful capacity to find the good in all of us.
I remember back to a Gold Cup regatta in 1980; the Sydney rowing club had just won the main race for the third year in a row. Father Tom working with the help of his great lifelong friend Father Frank Gorman was pontoon master, a daunting task controlling the comings and goings of crews. Ida Lee, the stroke of the winning Sydney crew and an Olympic champion, brought his boat close to the pontoon and called to Father Tom. He asked if he could take a short cut to the pontoon, only requiring twenty seconds to have his boat out of the water. Father Tom congratulated Ida Lee on his historic win, whilst also noting that the longer they talked the longer the queue was becoming that he needed to join. Needless to say, Ida rowed his crew away very quietly. Again, To Father Tom, everyone was equally important.

As you all know Father Tom, was passionate about rowing and rugby.
I can still remember the words he used to send his rowing crews out with.
"Gentlemen, take your time rowing up to the start, but do hurry back!"

He would never let his rugby side or his crew start without saying a prayer. A usual occurrence at each rowing regatta would be to see a marshal approaching his crew. Father Tom would pause mid prayer to kindly address the harassed marshal,

HOLD YOUR HORSES-WE"LL BE WITH YOU PRESENTLY, CAN"T YOU SEE WE'RE IN THE MIDDLE OF A PRAYER.

And just like that the marshal would retreat, waiting patiently for Father Tom to finish, and the crew to row to the start line.
I should also tell you that he was not adverse to a prayer at half time should it be required!
To all of us, students, parishioners and friends alike, he was always there; sharing our joy in times of happiness and a constant comfort in the struggles we endured.
Father Tom was a great leader. Tom's guidance and wisdom are both reflected by, and immortalised in, the many lessons that he shared with us. We were all strengthened by his lessons, but it was his actions and his character that left an even greater impact. Father Tom always applied himself to the best of his ability in every undertaking asked of him. He asked only the same of us as his students. He never abandoned his faith in anyone. Incidentally, over the years many people have told me that it was the living example of Father Tom that restored their own faith. Here is a man who certainly walked the talk.
One of his greatest gifts I felt was his humility, and it was as evident in the classroom, as it was in the rowing sheds or on the rugby field.
Father Tom was never one to look for praise or recognition. In fact as soon as someone tried to praise him or honour him, he would quickly deflect the attention by quickly replying how much everyone else had contributed. It was never about him, it was always about the boys or his workers!
In fact I was amazed to recently discover that in the Queen's birthday honours list of 1996, Father Tom was awarded a medal in the Order of Australia for Services to Religion. And he never said a word - typical Father Tom. Humble to the last!
Father Tom was the most respectful man I have had the privilege of knowing. I sense that he was regarded as the favourite Jesuit of his many students. However that is not to say that he was a pushover. One could not talk about Father Tom as a man without mentioning his legendary ability to encourage a wrongdoer to rise above adversity. Many of us in this Congregation have received Father Tom's famous line, "I know you are capable of better!! Let me see it!" along with the second chance that he gave all his students….. A second chance to prove to our peers and ourselves that change for the better was possible. He also had an exceptional knack of disciplining boys without actually using their names and embarrassing them.

"HEY FELLA! YOU, IN THE BLUE AND WHITE TIE, DONT GO TURNING AROUND, YES, YOU'RE THE ONE-CUT THAT OUT!'
Unshakeable faith was a hallmark of his character in so many ways. I recall visiting him in the school library as he took the 60 boarders for study period one afternoon. After he suggested that we walk outside for a chat, I asked "what about the boys?" He simply replied, "What's your concern Paul?" He believed that they knew what was expected of them and that was sufficient. It certainly was in my experience.
He was a man of courtesy, integrity, patience and gratitude.

If you were ever fortunate enough to be involved in one of his many projects, your efforts would be met with a handwritten note and a public thank-you. Each morning and afternoon, wherever he worked, he would go through the administrative office and then the staffroom and thank each person for their presence and their efforts. I think we would all agree that trying to say goodbye to Father Tom was a long process! He had a beautiful (and now not-often seen) habit of standing, arm-outstretched, waving goodbye until you were out of sight. It's probably the only time I've ever hurried in my life; because as Father Tom grew older, I always worried his arm would fall off before I turned the corner
It is always very easy to reflect on a life and look back at the BIG moments. Although Father Tom had many big moments, I can't help but think of all the thousands of little gestures, from remembering a Year 3 Student's name in the morning to thanking a colleague in the afternoon. These moments, among countless others, paint a picture of a man of rare decency and integrity.

It is a picture that words can't fully describe. As I sat down to write this eulogy, his remarkable traits seemed to pile up on the page.
Father Tom was an exceptional teacher and speaker He had the ability to speak in a quiet manner and command respect. He would cut to the chase, and address the heart of the matter. He would speak simply and concisely on what was important. His sincerity was plain to see. He was always there for others. His mission was to help, in any way he could. He was also a man to show others how important their efforts to assist the less fortunate amongst us were. He would say, your small act of kindness can have a deeply lasting effect on someone's life, and that again was just how he lived his life!
He was also a devoted carer to the gravely ill. It was without hesitation, regardless of day or time that Father Tom would visit with those who needed him.
Both during their time of need and for many weeks after. I believe his unwavering faith was a lifeline to many families and ill people, and made the journey to eternal life easier for the ill, and remaining on earth less hard on the family.
In closing, there is one trait that keeps remerging when looking back on Father Tom's life.
On visiting Father Tom last September, I asked him if he would kindly autograph his two books for his fellow teacher, rowing coach and friend Charlie Rowe, who we often spoke of on my visits. What he wrote that day summed up the focus of his life:
"Dear Charlie, Thank you for the kindness you extended to me over our many years of friendship.
But above all else, thank you for the care you show for those entrusted to our care."
He lived a life in which the care and wellbeing of others was not just considered a duty, but a great joy and privilege. This was not lost on his ex students, who would often invite him, back to class reunions. He loved to listen to the stories and the jokes that flew around the table. Inevitably he would remark on how blessed he felt to be their guest of honour. Sometimes he was even curious as to why his old students were so keen to have him with them. His great humility perhaps masked the truth; they felt so fortunate to have stood side by side with a true guide and dear friend. It is a feeling we can all feel blessed to share.

FATHER TOM, A MAN FOR OTHERS!

~~~~~~~~~~~~~~~~~~~~~~~~~~~~~~~~~~~~~~~~~~~~~~~~~~~~~~~~~~~~~~~~~~~~~~~~~~~~~~~~~~~~~~~~~~~~~~~~~~~~~~~~~~~~~~~
Vale Fr Tom O'Donovan

by Fr Ross Jones SJ
Rector of St Ignatius College Riverview
Vale, "Toddy"

Last Saturday afternoon, one of the 'greats' of the Province went home to God.
Thomas Francis O'Donovan was born in 1921 in Brunswick, Victoria, and was educated by
the Jesuits at St Patrick's College, East Melbourne, a school later resumed by the Archdiocese.
Immediately after school, he joined the Jesuit novitiate and during his studies taught at both
St Louis in Perth and his old school.

After ordination and Tertianship (final studies), Tom was made Prefect of Studies (a very
senior position) at Xavier College in Kew. His gifts, both academic and spiritual, must have
recognised early on because he was then appointed Rector of Loyola College, Watsonia
(the Province's principal House of Studies), the Province Prefect of Studies and a Province
Consultor. Great responsibilities. Among many other subjects taught by him at Loyola,
two were singing and homiletics. That should surprise no one who knew Tom in his later
ministries in Sydney!

In the late 1960s, Tom crossed the border to Sydney to spend the rest of his Jesuit life in a variety
of ministries here. So began a great affection for "Toddy" by so many. For six years he was muchloved
Rector of St Aloysius' College. He flourished, of course, in the production of the annual
Gilbert and Sullivan operettas. Part of his charism was that every boy felt known by him.

Tom moved to Riverview in 1974, to spend the next seventeen years on the peninsula. In that time he turned his hand to many
tasks—a teacher of Religion, English and History, RE Co-ordinator, Director of Liturgy and Singing, Year 12 Form Master, Prefect of
Boarders and, of course, Rowing Coach.

In 1990, his gifts took him in yet another direction, as Province Mission Promoter—a task he threw himself into with his characteristic
enthusiasm and warmth for more than a decade. In 1991, Tom moved to St Mary's North Sydney to assist in the parish and be closer
to the Mission Office in West Street. In the Queen's Birthday honours list in 1996 Fr Tom was awarded a Medal in the Order of
Australia for services to religion through the Jesuit Indian Mission in Australia and school education. In that time, he began a regular
and popular supply at St Michael's Lane Cove.

After so many years of fruitful and generous service, Tom 'retired' in 2006 to Arrupe House at Canisius College, Pymble, to continue,
as we say in Jesuit parlance, "to pray for the Society and the Church".
Last year, needing extra care, he moved to the Holy Spirit Nursing Home in Croydon.

There, last Saturday in mid-afternoon, Tom joined in saying the Rosary (his favourite prayer) with Frs Michael Ryan
and Michael Kelly, and his niece, Patricia O'Donovan.
When they concluded the last decade, Tom at last joined his Lord.

As this Viewpoint is launched, Tom's funeral will be underway at St Mary's North Sydney. There will be many there whose lives Tom has
touched, whose faith he has strengthened, whose hearts he has consoled, whose character he has shaped. People who have worked for
him, sung for him and rowed for him. Who experienced his gracious care and loved him. All knowing he is now with God.
There was a certain type of person Ignatius used to seek to join him in "the least Society" of Jesus. He was described as an insignis. A
person of influence, who would leave his mark; a generous and large-hearted man; someone of infectious faith, who loved God and
was passionate to build God's kingdom. Tom O'Donovan was such a one.

Requiescat in Pace.

Fr Ross Jones, SJ