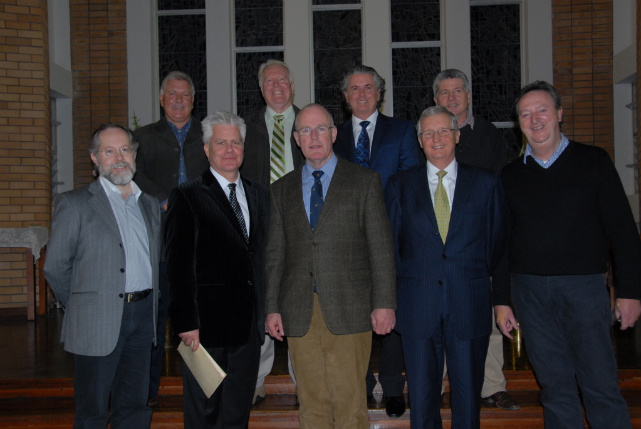 SAC1972 former Altar Boys reunion??
If you look at the sheepish grin on Mick Fitz's face one can tell
we were certainly not good little altar boys 40 years ago.
Bornholt obviously found it very amusing and Fay is having a good chuickle to himself!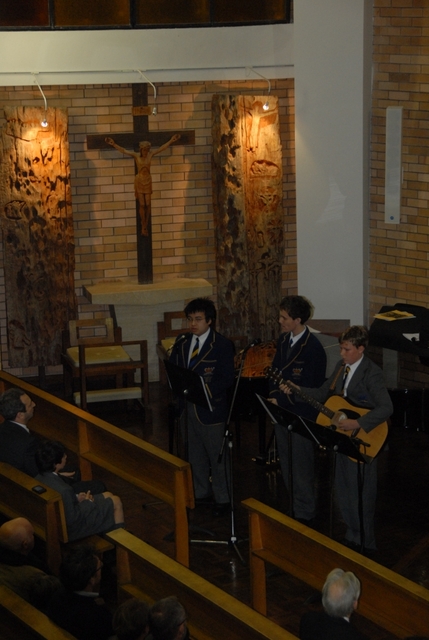 The current generation of Aloysian performers were not to be outdone
– Harrison Collins (Year 11), Michael Paton (Year 10) and Tom
Jenkins (Year 7) were at home with the more senior alumni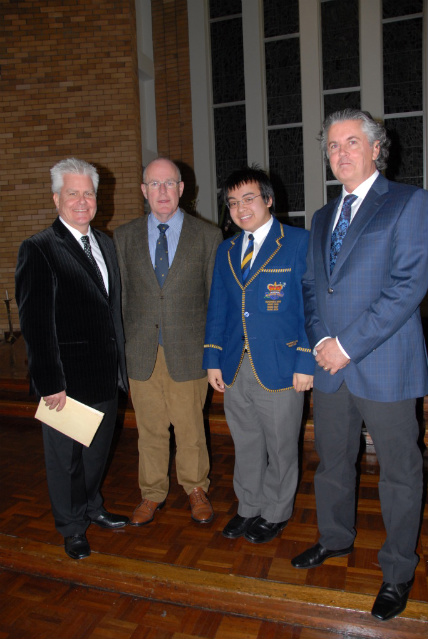 Some of the Music Makers on the night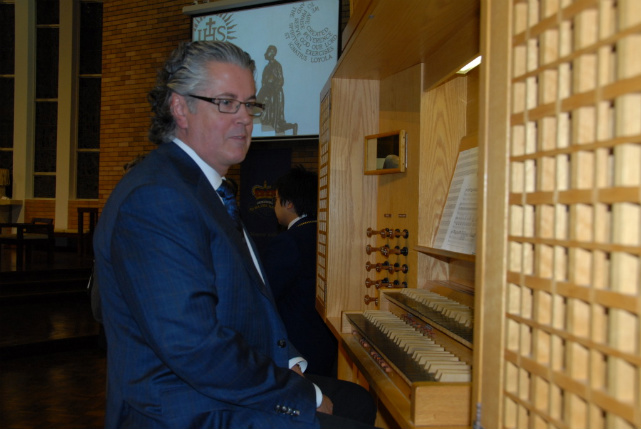 It was wonderful having John Liddy accompany us at the mass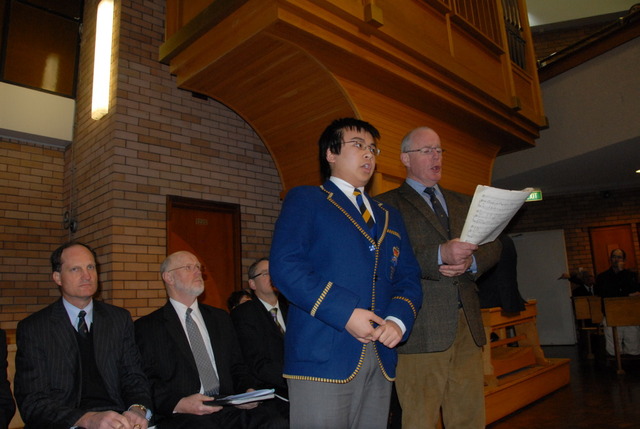 Jonathan Chan Year 11, inaugural winner of the
Anthony Wallington Memorial Music Scholarship 2006
and Cookie singing César Franck's Panis Angelicus
the SAC Fathers Choir seated behind
From the Gonzagan Magazine Friday September 3rd
by the Rector Fr Ross Jones SJ
Leading up to Father's Day, the week has had its share of liturgies to
underscore the occasion. For a long time now, SACOBU has been
the organiser of the annual Father and Son Mass and Barbeque at the
College. It grows in strength, with the participants filling The Boys'
Chapel and most of the upstairs gallery. The event was augmented
this week by a reunion of the "Class of 72" who went on to continue
their reminiscences over dinner. Then, in the Junior School later in
the week, the more recent Father's Day Mass and Breakfast drew
another large early morning gathering.
The Old Boys' sponsored Mass was a liturgical extravaganza.
Complementing the performances of the boys themselves, The
Fathers' Choir sang a number of a capella parts of the Mass. The Class
of 72 boasts a number of highly-esteemed performers. Martin Cooke,
who currently sings with the Bavarian State Opera and at the
Salzburg Cathedral, was joined by Jonathan Chan (Year 11), treating
us to César Frank's Panis Angelicus. Martin's classmate, Patrick
Donnelly, studied at "The Con" and then the Guildhall School of
Music in London. He has performed at the Sydney Opera House, in
England and on the Continent.
At the Offertory, Patrick sang Gabriel Fauré's Libera me, Domine. Accompanying them was John
Liddy from the same class, now an organist of note in Switzerland.

Our current generation of "local" performers were not to be outdone
– Harrison Collins (Year 11), Michael Paton (Year 10) and Tom
Jenkins (Year 7) were at home with the more senior alumni.

At the conclusion of the Mass, following choruses of "The Blue and
Gold Forever", Martin offered an impromptu and very moving
address to the boys. He, with Patrick Donnelly, traced their current
careers directly back to the experiences they had in performing roles
in the Gilbert and Sullivan operas, "decisive milestones in [their]
lives". "I love my school deeply," Martin said, "and it will always be
an intrinsic part of my life. I hope this will be the same for you boys
as you pursue your careers."
The Gospel text for the Mass was Luke's account of the loss of the
boy Jesus in the Temple (Lk 2:41-52). Here we have Jesus moving
into adolescence. In fact, he was probably learning his carpentry trade
from his father by the time of this incident, and not too many years
away there was the usual likelihood of his betrothal and marriage.

Now, though, in some mysterious way he was responding to desires
and dreams within himself. Discovering his identity, his selfhood.
The mystery of it. What was he going to do with his life? Why was he
now being drawn to scriptures, to the story of his people, and to
those Temple experts who could expound it?
We well know how in adolescents who are caught up with something
engaging, diverting or satisfying, that time and other commitments
are often of no consequence. Like them, Jesus is swept up by
possibilities. Perhaps there is more to his life than a joinery trade in a
small village. So three days drift by.

Thoughts of mum and dad fade not by deliberate intent, but because he is discovering himself.
That first sting of separation for Joseph and Mary and the feeling
from then on that this, their only son, was destined for something
else, something greater, must have been a source of puzzlement for
them. It may have evoked sadness. Perhaps even a touch of
disappointment. The great Cardinal, John Henry Newman (to be
beatified by the Pope in England next month) once remarked,
"Growth is the only evidence of life". And, again, "To live is to
change, and to be perfect is to have changed often". Like all good
parents – all wise parents – Mary and Joseph knew the cost of such
growth in their son.

We see the same struggle in growth in the life of our patron,
Aloysius. The expectations of Aloysius' father, Don Ferrante, for his
son were clear and inflexible. When the young Aloysius first
expressed a desire to join the Jesuits, his father's first response was to
threaten a thrashing. Then he resorted to worldly attractions and then
to a sense of duty. But in time, being persuaded by others, he
relented and let go. So Aloysius, at seventeen, left the estate at
Castiglione for Rome.

In recent times, a remarkable letter has come to light, penned by the
steely Don Ferrante. It was addressed to the Jesuit Superior-General
of the time and carried by Aloysius on the way to the novitiate.
In part, it reads, "I merely say that I am giving into your Reverence's
hands the most precious thing that I possess in all the world." So
tender a sentiment, from such a brute of a man. At last, it seems,
even Ferrante had found a freedom. A freedom to allow his son to
grow, a freedom to let go. Aloysius and his father had both found
that "to live is to change, and to be perfect is to have changed often".
Parenting – indeed, teaching – is all about shaping the selfhood of the
young.

The selfhood of your sons; the selfhood of our students. Their dreams are not our dreams.
Their ultimate possibilities are unimaginable to us. Their future is not our own. For Joseph and
Mary, even for the tough-minded Don Ferrante, for each parent,
"love is proved in the letting go" (as the poet says).
And that love is confirmed when they freely return.

Ross Jones SJ