Rev Father Patrick McEvoy SJ
born Brighton Melbourne 5 February 1910
died Sydney 7 May 1982
aged 72

Priest - Philosopher - Teacher - Motorcyclist
Introduction
by

Martin Cooke
Some months after uploading our SAC1972 webpage, I included pictures of Fr Pat McEvoy SJ taken in the late 1960s and in particular on the last day of school for the 1969 HSC Latin class. These were taken by Anthony McGlynn SAC 1969 who was a passionate amateur photographer at school and whose photographs from those days are now priceless memories for us of an era long past.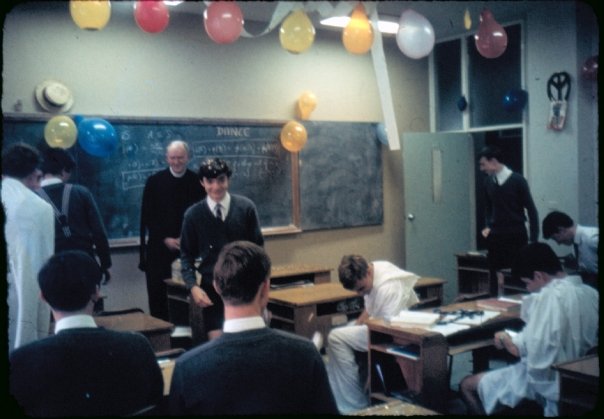 Anthony I would like to thank you again most sincerely for sharing these wonderful memories with us all.

These images show Fr Pat McEvoy exactly as many of us remember him, a kindly but authoritative Prefect of Studies who was affectionately known to us as "Boris" and by the students of the early 1960s "Goldfinger" due to the huge nicotine stains on his right hand thumb and fingers. One can see from the twinkle in his eye in these photos that he was a very warm human being with a great sense of fun and that he was highly respected and liked by his pupils.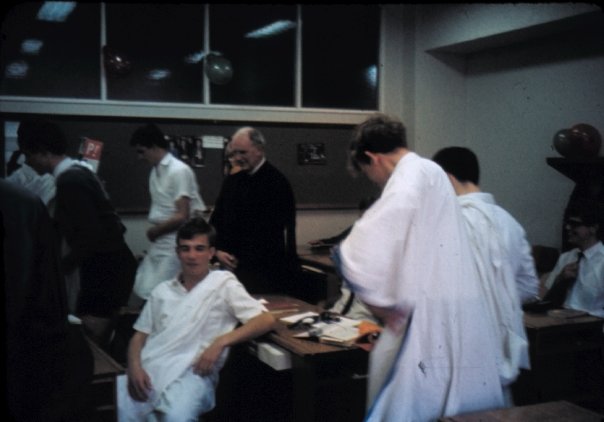 Fr McEvoy's niece, Brenda Irwin happened to "google" his name and came onto our webpage and to cut the long story short thanks to Brenda and the Jesuit archives, we now have a fount of information about the amazing life Fr Pat McEvoy which most of us never knew. Brenda and her family loved their uncle dearly and a big thank you to Brenda for the beautiful reminiscence and to Liz Parker of the Jesuit archives in Melbourne for the photographs and official biography about this unique man.

Before I began this memorial page to Fr McEvoy I tested the waters with several old class mates and other SAC old boys from various years and the reaction was totally positive and they all remembered Fr McEvoy with affection and especially that penetrating golden thumb that would send a pupil to ground, books and desk flying everywhere in a fit of both agonising pain and hysterical laughter.

Funnily enough my two daughters know very well who Fr McEvoy was as I would apply the same form of discipline when they were little and I called it "a Fr McEvoy". I even recall Hannah saying: "Papa please, don't apply the Father McEvoy!" The reaction was exactly the same: a mixture of agony and laughter all in one.

Another unforgettable memory for many of us was his Norton 500cc single cylinder motorbike and famous leather helmet. I can still recall the wooden shack under a tree in the corner of the Whyalla playground and Fr Pat riding in looking like an old Hells Angel having just celebrated mass for the nuns in Neutral Bay.
Damian Macey SAC 1974 and today the proud owner of a 1951 Norton 500cc wrote to me:

Although I never had 'Boris' as a teacher, I quite remember his voice booming through the as yet unhallowed corridors of 'the new building' (as you and I knew Stage 2), his easy gait and his presence whenever he strode around the grounds at Upper Pitt St.
During my first few years at St Aloysius, I lived in Raymond Rd, Neutral Bay and often walked to school via Anderson Park, then High & Broughton Sts, Milson's Point. As I walked up the hill from 'Ando', I regularly heard the unmistakable note of Fr McEvoy's trusty Norton, burbling along at what seemed one stroke every second telegraph post, as he made his way to Nazareth Convent, Raymond Rd Neutral Bay to say morning Mass for the Nuns. To remember him, flying along, clad in a leather wind protector and Cromwell helmet, his Jesuit robes streaming behind, still provides a most vivid mental picture and brings a smile to the dial. It was this fond memory that led me to name my 1951 Norton Dominator 'Boris', and am hoping to have it on show at one of the 1st XV games this year.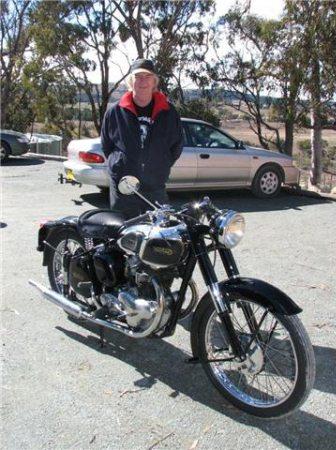 Damian is certain Fr McEvoy didn't have a license to the consternation of the local police and the superior of the Jesuit community!
Legend has it that Fr McEvoy with increasing age decided to sell his vintage Norton, which was indeed a highly prized and valuable collector's item even in the late 70s and early 80s. There were many substantial offers from prospective enthusiasts however a young boy and Norton lover called by and just wanted to see this rarity. Apparently Fr McEvoy noticed the love he had for the Norton in his eye as the lad caressed this magnificent machine with his hands saying how he could only dream to own such a motorbike and that he simply could not afford it. Fr McEvoy asked him how much he had and he replied: "only $200 Father". Fr McEvoy said to him: "you can have it!"
Another memory I have of Fr McEvoy were his light coloured socks he always wore with these soft plastic/rubber like sandals which meant you could never hear him coming silently down the corridor. Suddenly he was there and you were "sprung" as we used to say 40 years ago when caught in the middle of some misdemeanour.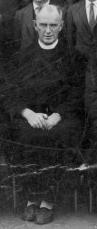 A memory I also recall was in 1971 after the sudden departure of Brian Hart our very disliked form master, Fr McEvoy was then appointed Prefect of Studies to everyone's great relief as he had been Prefect of Studies for the Middle School in the mid sixties and for our time in 1st and 2nd form.

Fr Pat "Boris" McEvoy SJ is someone I have never forgotten and a very positive memory of my days at St Aloysius. I was often "in trouble" and had to report to his office and I always remember him being firm, fair and most of all very humane. An example was the time when Mr Bill "Wong" Jenkins, the art master, was constantly sending me for "six slaps of the strap" for insolence, indolence and disobedience and Fr McEvoy sent me back with a note saying he wouldn't do any such thing.

I can still remember the last time I saw Fr McEvoy. It was at the funeral of the late Greg Howard SAC 1975 in 1977 at St Francis Xavier's Lavender Bay. Greg was tragically killed in a car accident in Nambour Qld in May of that year. Greg was a literal star in the making and one of the funniest guys I have ever met and had just begun a promising radio career. His untimely death was a great tragedy. Fr McEvoy was at the funeral in the congregation and when I greeted him he chortled and said "Well Cookie what are you up to?" I had just started as a postulant studying at the Marist Fathers novitiate and I wondered what "Boris" was going to say. He was very encouraging and warm in his response and that is something I have never forgotten all these years later.
------------------------------------------------------------------------------------------------------------------
Fr Patrick McEvoy SJ

a short biography
from the
Jesuit Archives in Melbourne.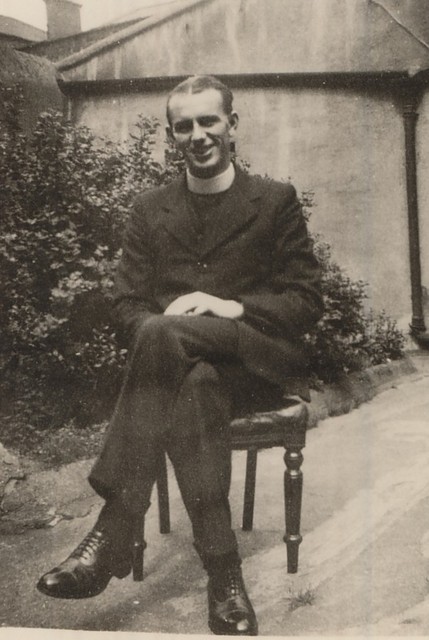 1937
Patrick McEvoy spent his boyhood in Croydon, Victoria, and was educated at Xavier College. He was always intellectually advanced, and completed his secondary studies when only 15 years of age. He entered the Society, 2 March 1926, Loyola College, Greenwich, a few weeks after his 16th birthday.
He pursued all his priestly studies in Ireland, at Rathfarnham, Tullamore, and Milltown Park, and gained a BA degree in classics from the University of Dublin. He never did regency, and was ordained, 24 June 1937.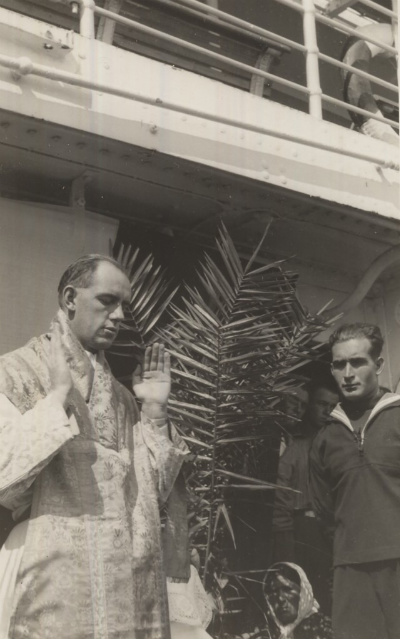 Fr Pat McEvoy celebrating mass on the SSremo returning to Australia in 1939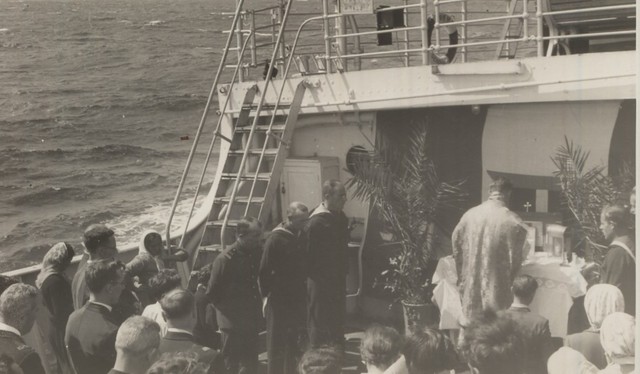 The Consecration
He returned to Australia in 1939, after tertianship in Wales, and remained on the philosophy faculty until the end of 1961, during which time he was prefect of studies from 1941-1961. He was transferred to teach secondary school boys Latin at St Aloysius' College, Sydney, 1962-82, and was Prefect of Studies, for the Middle School from the mid 1960s to 1968 and Prefect of Studies for the senior school 1970-71.

Patrick McEvoy was never given the opportunity to undertake special post-graduate studies in philosophy, but that did not seem to worry him. He had a strong influence on many Jesuit scholastics, especially those interested in philosophy. He lectured in classically pure Latin for an hour without notes and with intense concentration and seriousness, in clear and logical fashion. He set high standards for himself and demanded the same of others. He was intolerant of weakness in people, and could not adequately deal with weaker students. He saw truth very clearly, and wondered why others could not be so enlightened. In examinations, however, he could be gentle, and was always courteous and respectful.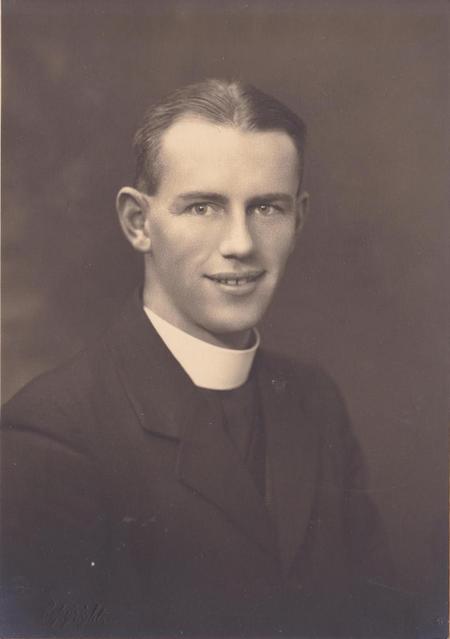 The young "dapper" Fr Pat McEvoy SJ

He was the most distinguished metaphysician in the province, drew up his own codex in rational psychology and natural theology, but otherwise, wrote little. He was not a neo-Scholastic, but rather belonged to the transcendental Thomist school of Pierre Scheuer and Joseph Maréchal from Louvain. His views were not always accepted by other professors, and students were sometimes caught between these differing opinions, especially during the oral examinations.

Patrick McEvoy was a complex character in many ways, very clever and competent, with a childlike simplicity in many of his daily reflections on life. Whatever his task, whether as philosophy professor, teacher of biology, destroyer of forests, teacher of Latin, administrator of studies, he performed it all with extraordinary perfection. Yet, while always sure about his work, he seemed to be unsure of himself. From being a 'dapper young man' in his early days in the Society, he went to an extreme state of sartorial disrepair. When he took up biology, his room took on the air of a neglected slaughterhouse. At St Aloysius' College, his room took many months to clean up and paint and retouch the walls. He had lived in a slum. One of his major recreations was watching the wrestling on television on Saturday mornings while he corrected Latin exercises.

A short time after giving a scholastic 'contio' on the sacredness of the priestly state in which he was reported as saying that any form of manual labour was beneath the sacerdotal dignity, he plunged himself into such a degree of servile work as had not been seen in a Jesuit before. He became a truck driver and woodsman. He built up a wartime woodpile at Watsonia which seemed to rival the Great Wall of China!
As a scholastic himself he was an enfant terrible with superiors. They wondered if he was suitable for ordination. But as minister of philosophers he was a very stern disciplinarian.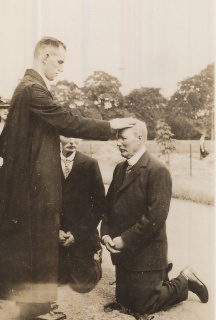 Fr McEvoy First Blessing for his uncle in 1937 in Dublin

Only a magnificent physique such as he had could have stood up to the battering to which he subjected it. Periods of intense study alternated with bouts of excessive physical labour. He smoked with all the avidity of a confirmed addict. A home-made cigarette would be waiting with matches to be snatched within seconds of the end of a lecture. On Long Table days, and other days, he enjoyed the opportunity of partaking in any liquid refreshment provided. He appeared to have an indestructible constitution.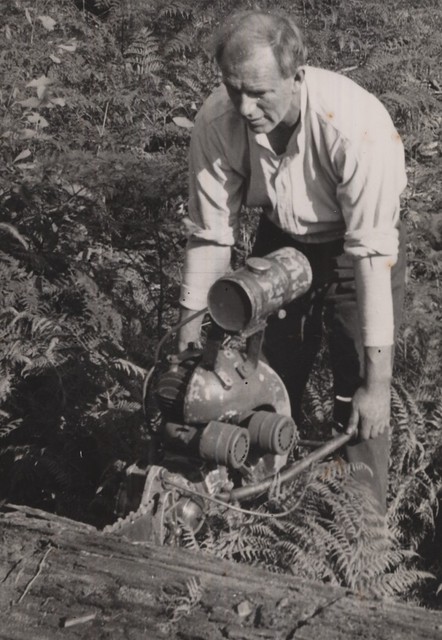 Pat McEvoy sawing wood King Lake 1950

For years he belted around the countryside on a heavy Norton 500 motorcycle whose mechanism and eccentricities he soon mastered with his usual competence, and which he controlled in the same unrelenting manner with which he tackled everything. When he was at St Aloysius' College, every year he would travel from Sydney to Melbourne on his current rusty mount. He used to stop at Tarcutta, buy some meat pies and then sleep under a tree. On one occasion, making the journey by night, he was thrown off the machine. He lay unconscious on the ground for some time. When he recovered consciousness he remounted the cycle and continued riding. However, he soon discovered that in his semi-stunned state he was travelling in the opposite direction.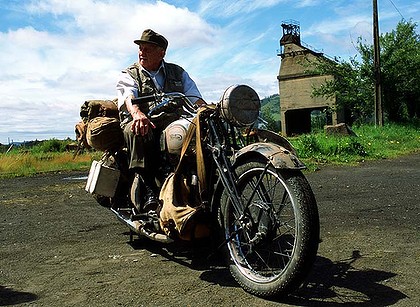 This was the type of Norton "Boris" rode and the rider here and the run down looking bike look just like Fr Pat McEvoy!
(The rider pictured here was Alberto Granado, Argentinian bio-chemist 1922 -2011 best mate of Che Guevara)

The change from philosophy professor to teacher of Latin to secondary boys was considerable, but McEvoy proved himself most adaptable. He was respected and even liked by the small number of boys who met him in Latin classes. With staff he was reserved except on those occasions of school celebrations, when he could prove that he had greater staying power than anyone else. He found it hard to relate to Jesuits, as he was very critical of their weaknesses. In recreation he would sit by himself, drink and read the paper. If greeted by a visitor, he would respond with a short burst of strained joviality and then, not being able to continue, would relapse into silence. He never gave the appearance that he was interested in others unless they related to him in some way.

This was the complexity of Patrick McEvoy, talented in so many fields and yet remaining manque. There was an intense shyness, perhaps even a totally unwarranted inferiority complex. He was not comfortable with his peers, but he enjoyed the company of the young, either scholastics or adolescent boys. With these he could be relaxed and at ease. He was not just a rationalist; he could meet people heart to heart. McEvoy, however, must remain an important figure in the Australian province. He was the real founder of the new Australian philosophate and a man of solid faith and unadorned spirituality; a man rough hewn perhaps by the unwisdom of other times, but never destroyed by it.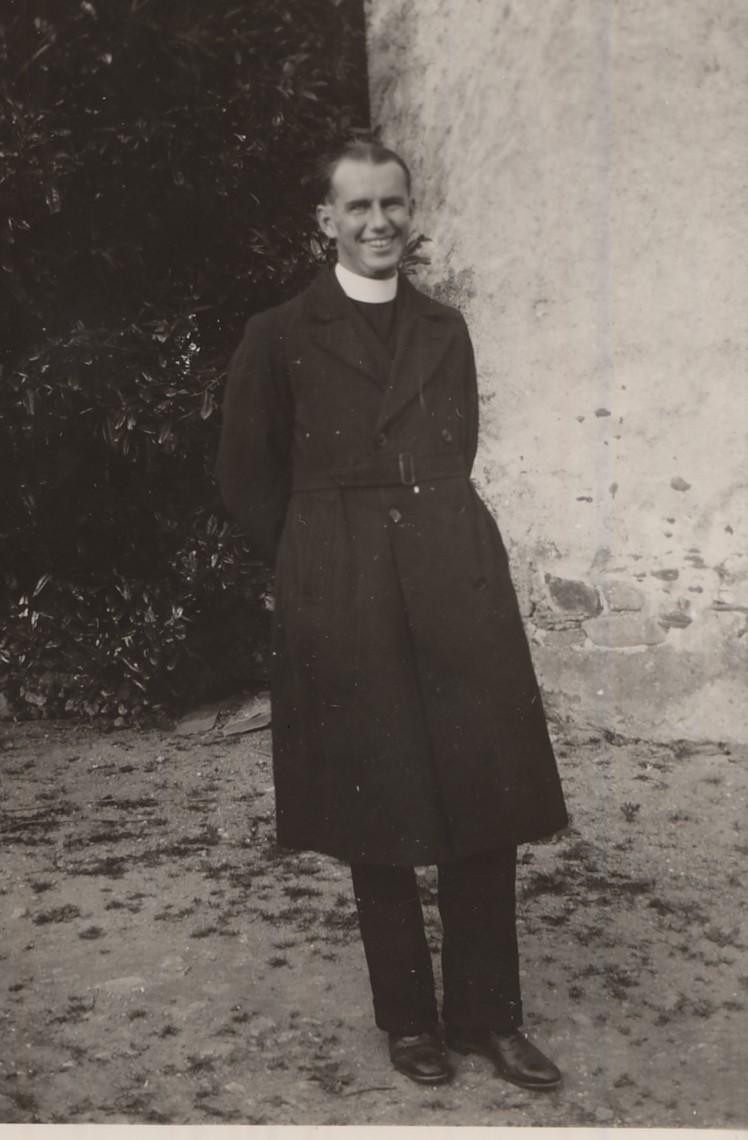 Pat McEvoy SJ Milltown Ireland 1937
***************************************************************************

A brief biography and collection of memories of Patrick McEvoy SJ
for the past students of St. Aloysius College,
Sydney from the years of the 1960's

by his niece
Brenda Irwin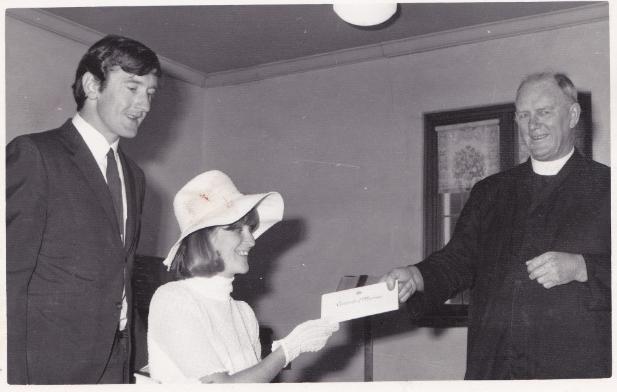 photo from Christine's wedding 1969

Our Uncle, Patrick James McEvoy was born in 1910 in Brighton, Victoria.
His father, John Joseph McEvoy, had migrated to Australia as a young man from County Wicklow in Ireland.
John was a bachelor living in Brighton, where he met his wife to be, Rose O'Brien. Rose ran boarding houses, in large stately homes. One of these was "Ferfield" in Park St, Brighton, not far from the beach, where she presided over a large 1 and half acre property and its tenants. Rose was born in India, the daughter of an Irish British Indian Army man and what we believe to be an Anglo-Indian mother, in Pune, military headquarters of the Bombay Presidency. She came to Australia at the age of four.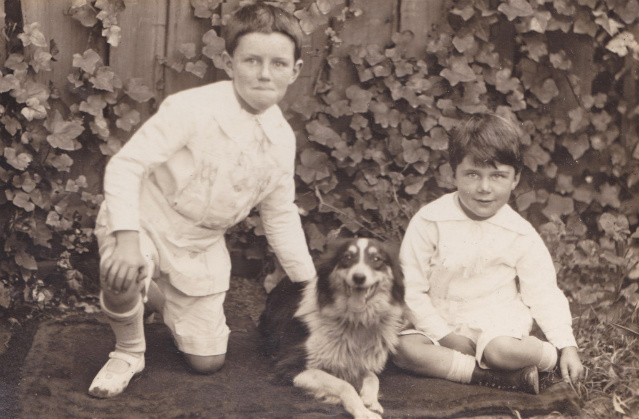 Pat and his brother Jack
When Rose and John got married in 1909 at St. James Church, Elsternwick, Rose was 40 and he a few years older. They proceeded to have their two boys, Pat and Jack three years later – what aged parents they were for the times. Pat had old parents! Pat and his brother Jack went off to Xavier College in Kew, beginning in Bourke Hall.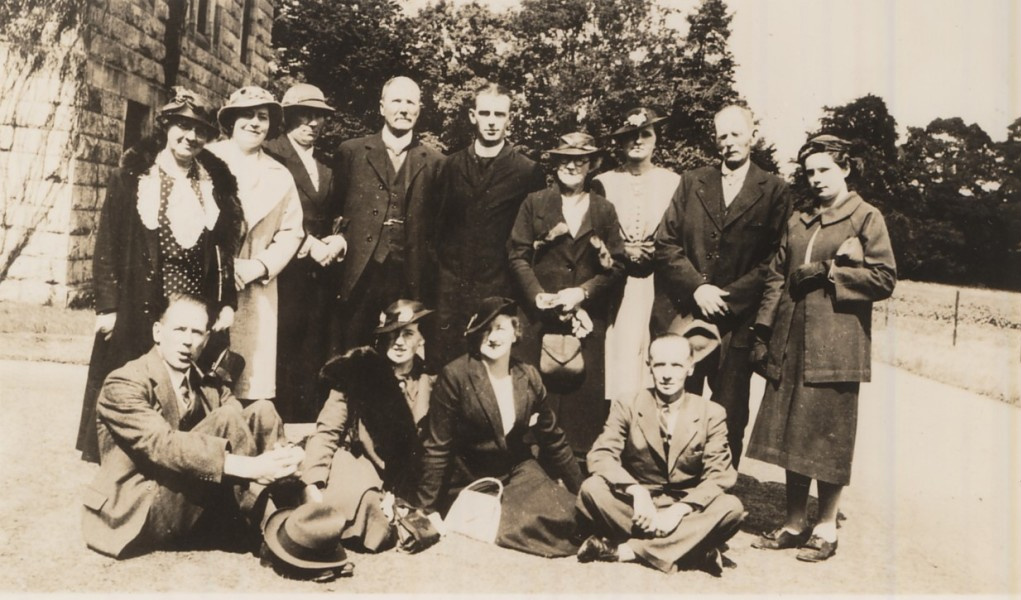 Pat McEvoy and most of his Irish family relations after his ordination 1937
The family moved from Brighton to Croydon North in 1923, when it was complete bush and Pat was about 13. Probably around that time the boys became weekly boarders at Xavier, enjoying weekends and holidays riding horses in their rural home. Their parents meanwhile became very prominent in the Croydon/Lilydale community. Rose became the first Post Mistress for Croydon North and John Joseph the President of the Croydon Progress Association. It is said they were good friends of Nellie Melba, a Lilydale resident.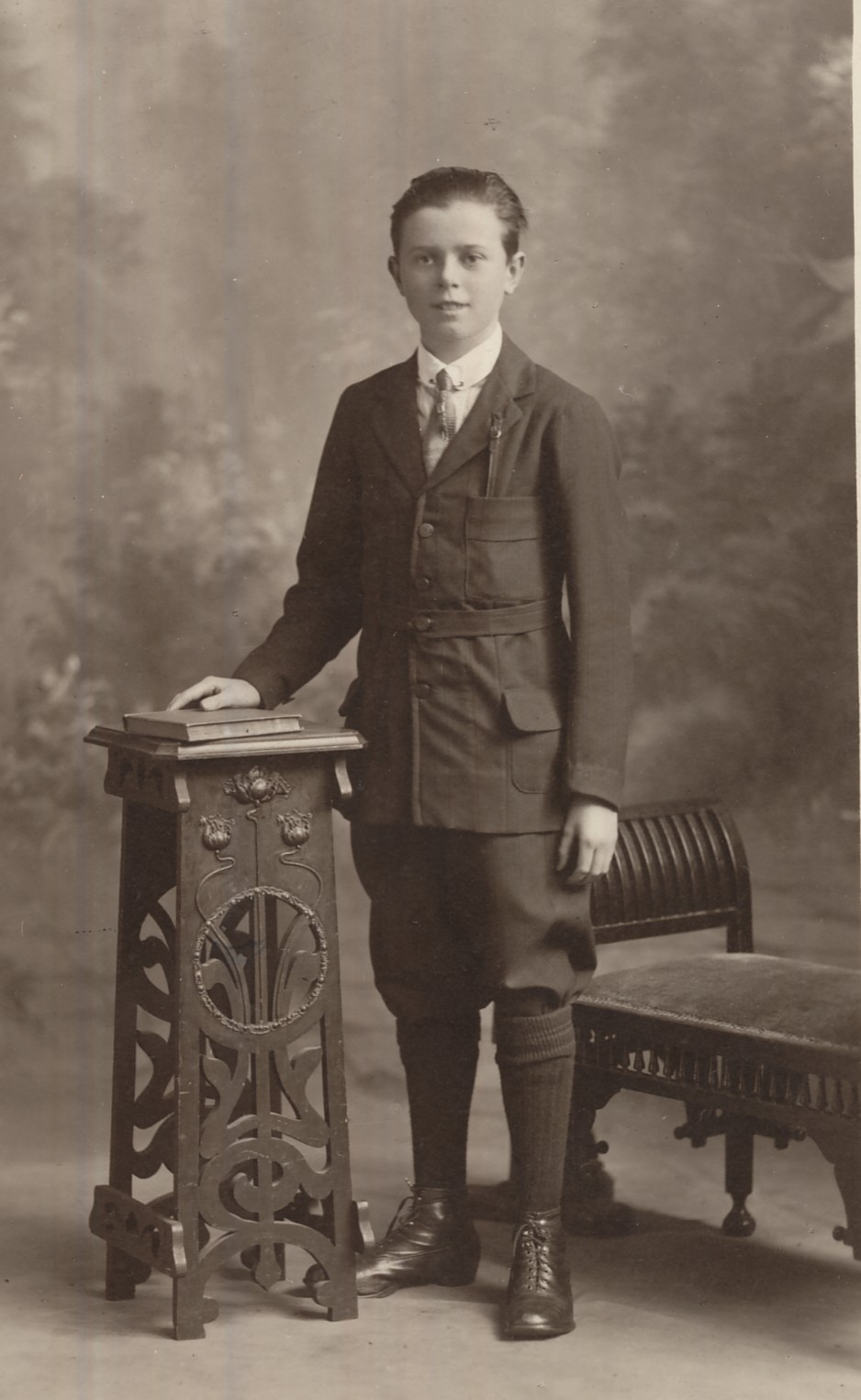 Pat McEvoy aged 13
Pat's Xavier College school reports show him as Dux of the Class for most of his years at the school. His brilliance, which could have lead to a future in academia, in medicine or the law, was to be dedicated to the God and to the Jesuits, to the study of philosophy and theology.

"Those who knew him best in his prime affirm that had he chosen to enter the legal profession his penetrating and incisive mind combined with the strength with which he would pursue any course he set, would surely have taken him to the top of his profession; had he chosen to be a surgeon no one would have excelled him in the dexterous precision of his dissection. He chose to answer the call to be a Jesuit and all his marvellous talents were dedicated to the service of God." *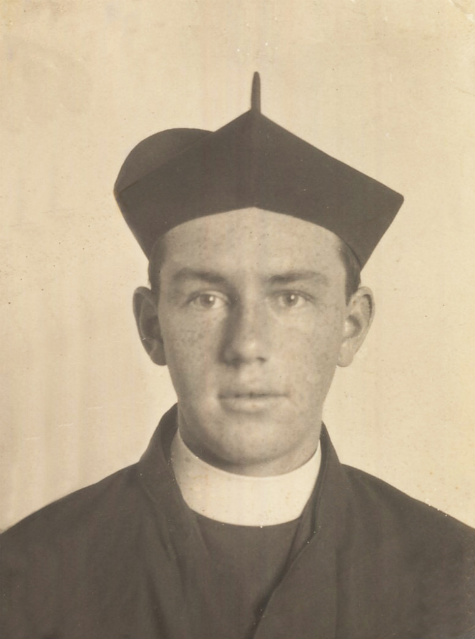 Pat McEvoy SJ having taken his First Vows in 1928
Pat finished his secondary school studies at the age of fifteen, and entered the novitiate a few weeks after his sixteenth birthday. In today's terminology, he may well be seen as a "child prodigy". As was the custom of the time, Patrick went to Mill Town Park in Ireland to commence his training for the priesthood, leaving his birth family for many years. In Ireland he met up with his entire father's family – uncles, aunts, tons of cousins and their children. He was welcomed home to the mother country, which must have been an exhilarating experience after the rigours of boarding school. Photos of that period of his life show him relaxed, comical, laughing, in full flowering. They also show him as groomed, even sartorial, almost elegant. They also reveal many friendships with Jesuit men from Germany, before the start of the war.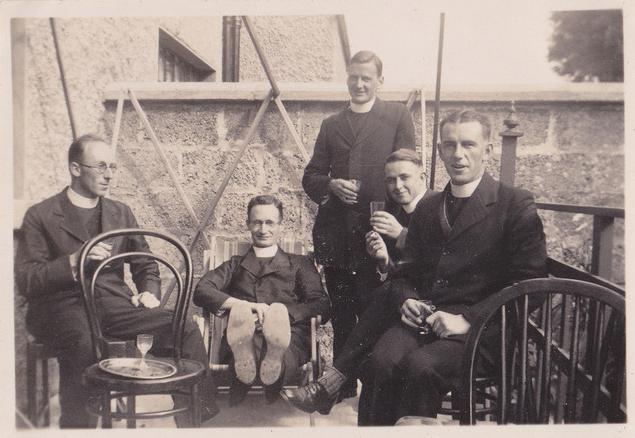 Pat McEvoy with his peers in Europe late 1930s
In the early days of WWII, Pat was sent straight back from his study abroad to Canisius College in Sydney for a year and in around 1941, Pat took up the position of Minister of Philosophy and Prefect of Studies at Loyola College, Watsonia, the training school for Jesuits. He was to remain there for 22 years. It was at Loyola that the young scholastics experienced the full impact of Pat's brilliance and also the intensity of his intellect. All Pat's lectures were delivered in Latin and it was to all accounts, full on!
I am told that Pat may have experienced some kind of internal shift in his thinking and beliefs at some point – moving in his philosophical approach from pure St Thomas Aquinas, which was "de rigeur" at the time, to incorporate the thinking of a Belgian Jesuit, Maréchal. Doctrine was authoritative in those days and perhaps this questioning and realigning began another process of change in Pat, because the formerly groomed, polished young man now at age around 35 began to metamorphose into someone more earthy, physical, even to all accounts, grotty. "from being a dapper young man…..he swung to an extreme state of sartorial disrepair". *
Wood chopping became his passion, an outlet for whatever needed release. I am told that a certain Mr. Murphy, a potato grower from Kinglake, had offered his bush block for wood logging. Pat took this up with gusto and every Thursday, I am told, he and a truckload of young scholastics took to the bush and spent the day chopping trees for fuel for the College boiler.

Pat, I am told, was the chief logger. Armed with chainsaw and hack saw, he would demolish large trees with gusto, turning them into one metre logs. The task of the young scholastics was to then chop these into bite size chunks and pile them into the truck. Lunch would be chops and sausages on the barbecue and the trip home would see the young novice wood-choppers sitting on top of the wood pile in the truck, driven by Pat. I have met many Jesuits who recall these days in the forest with affection and humour, such a contrast to the ethereal and lofty realm of the Latin lectures. "Pat demolished not just trees – but forests", according to Fr Emmett Costello. "Only a magnificent physique such as he had could have stood up to the battering to which he subjected it……", referring not just to his physical prowess, but also his great ability to tolerate alcohol and cigarettes.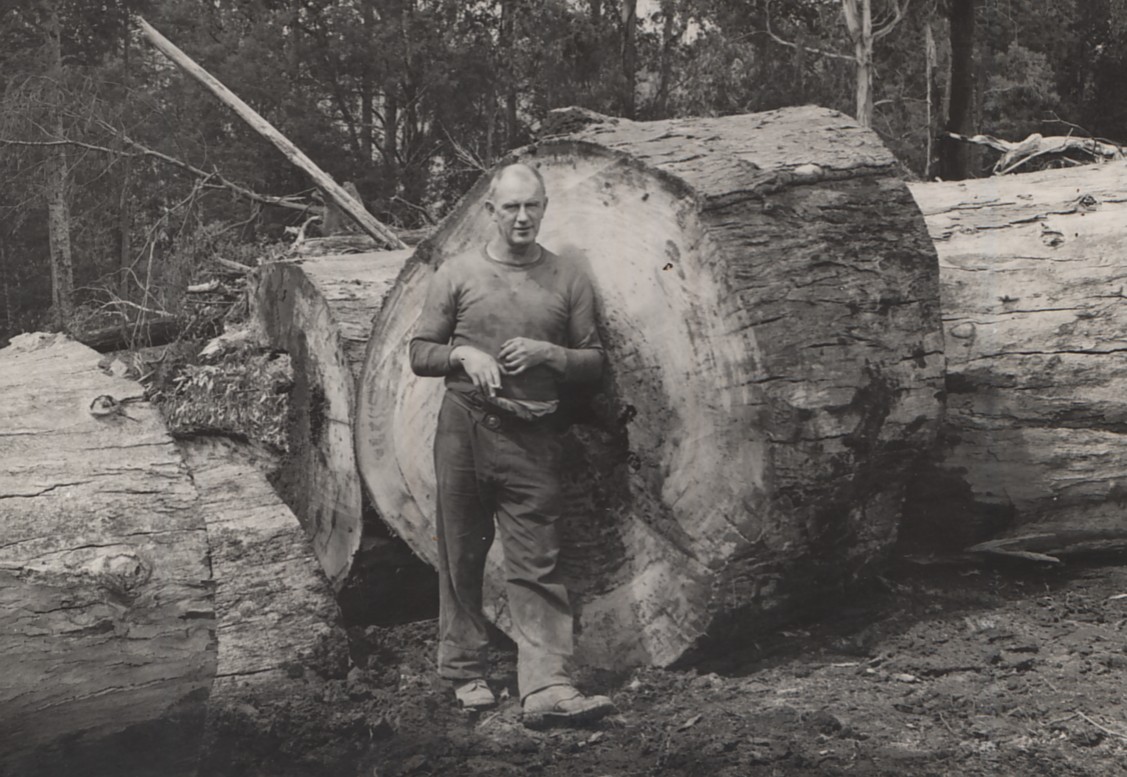 "Pat demolished not just trees – but forests" - Fr Emmett Costello
Pat seemed to have a kind of split in his personality – residing in either pure intellect or down to earth physicality, devouring Western movies and comics and other light forms of entertainment.
Gradually the formerly elegant Pat was receding into the past, with Pat seeming to lose all interest in his outer image.
As children, my sister and I remember great gaping holes in his woollen jumpers, nicotine stained fingers, a love of beer and conversation that was anything but serious, lots of laughs. My sister knitted him a new jumper when she was about 10 and for a while there he looked quite resplendent and was certainly grateful. Once Christine and I decided to hold a private conversation in French in his presence – to which he responded, outsmarting us with his own perfect French – he was most amused. I was amazed to find out many years later when I was older that Pat was a brilliant man, you could never have guessed. Was it humility or just a need to escape behind the laid back persona of our darling uncle?
When the Jesuit "Visitator" Fr Mc Mahon arrived from America to shake up the Jesuit establishment in Melbourne in 1962, it was decided it was time for Pat McEvoy to move on. Not just out of adult education and training, not just out of Melbourne, his home state – but up to Sydney, not to merely speak in Latin to the semi- converted, but to teach it to adolescent boys. Thus Pat went up to St. Aloysius College in beautiful harbour side Milson's Point, around 1963. We remember this as a devastating blow initially for Pat and for all our family. But in the words of Fr. Peter Steele SJ, Melbourne Jesuit, poet and academic who had been one of Pat's wood-chopping scholastics at Loyola, it was probably the right decision. Teaching in Latin could not be sustained as we moved into the sixties, and Vatican II in Rome was opening up the Church to become more accessible for all.
Pat grew to love being at St. Aloysius and he really enjoyed teaching the young boys in his charge. He coped well and generously with the change. The distance from Sydney to Melbourne did not deter him – he acquired a Norton motor bike and took to the Hume for every Easter and Christmas to make the trek to our house for lunch. It is rumoured that he may not have even had a driver's license, with his superiors at St. Aloysius having to pacify the local police that this would change. He seemed to be indulged in his eccentricity, which is a gift of great acceptance.

On his journey to Melbourne, Pat would buy pies for tea and sleep under a tree on the roadside at Tarcutta, dusting himself off and resuming the trip in the morning. Once he was attacked by a swarm of bees, but undeterred he continued on.
Pat was a kind of hero in Urquhart Street, Hawthorn, where we grew up. On Christmas morning, my sister and I and all the neighbours' kids would line up in the street waiting for his motor bike to turn the corner, cheering as he approached, grinning.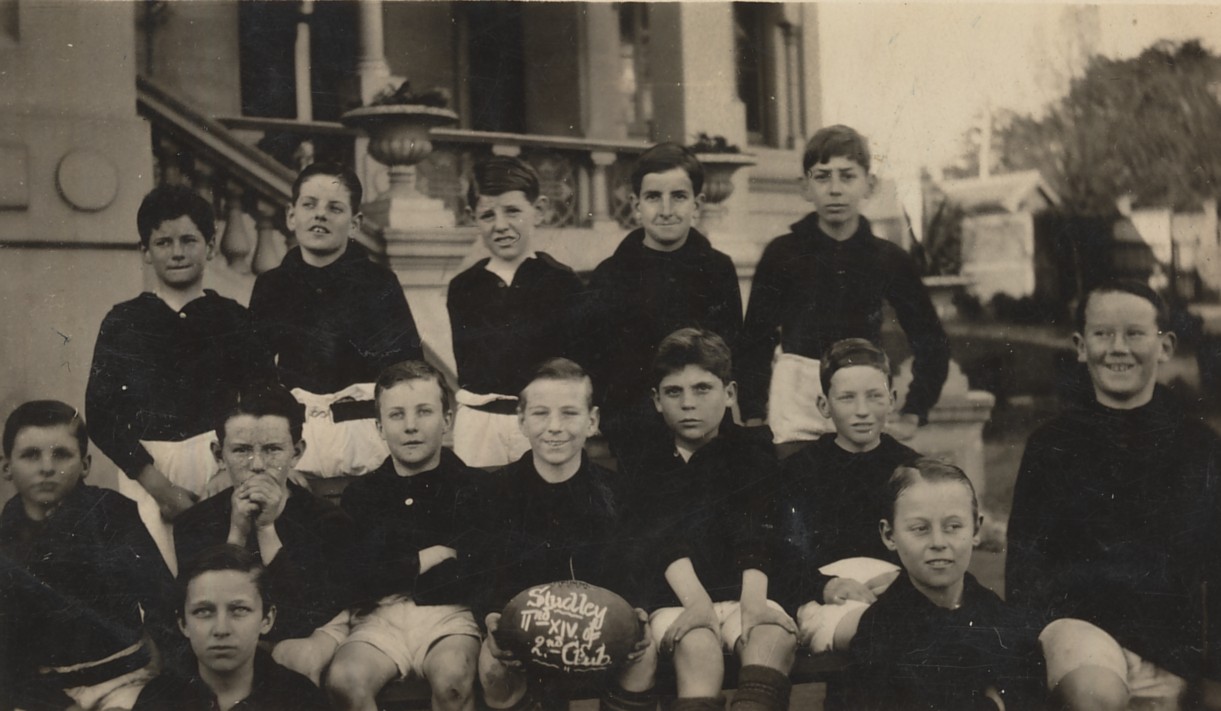 Pat McEvoy 1922 with his hands in front of his mouth
When my sister and I had our children, Pat became very fond of them all. When the Norton became too much for him, he would take the train to Melbourne, arriving on the platform with presents for the kids. Pat was social, he liked our parents' friends, he was usually laughing, smoking, drinking, chilled out. He had no time for the pompous or opinionated, especially those from the religious establishment.
" Pat McEvoy was a man of the heart – he must remain one of the "greats" of the new Province, the real founder of the new Australian philosophate – a man rough hewn perhaps by the unwisdom of other times, but never destroyed by it" *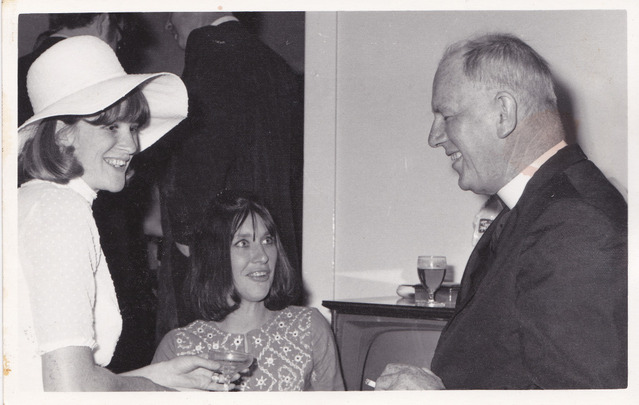 Christine & Brenda with their uncle at Christine's wedding in 1969
Four years later than his brother, Pat died too on May 7, 1982. He was 72. Too early. He had been in hospital in Sydney for two weeks with a thrombosis, which was life threatening, but sadly we had not been informed. When we finally heard of Pat's death, it was devastating. We went up to Sydney for the funeral, met his friends and peers, listened to the eulogy and found out a whole lot more about him.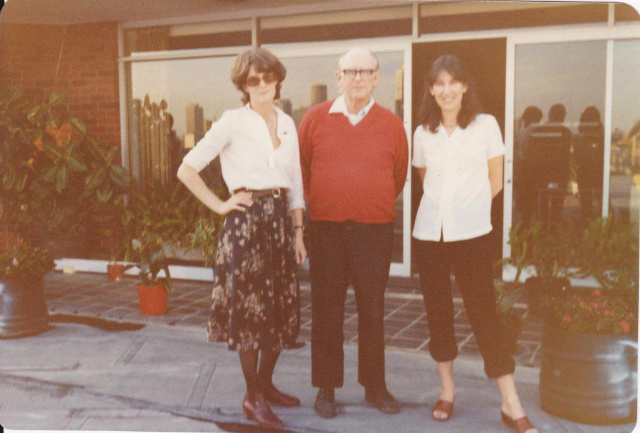 Christine and Brenda with their beloved Uncle Pat circa 1980 in Sydney
We loved our uncle. He was sweet, funny, humble, enigmatic and unpretentious to say the least. I still think of him often.
Vale, Father Pat.

Brenda McEvoy (Irwin)
Melbourne, 2011

* quoting from the Eulogy by Fr Emmett Costello SJ at his funeral in 1982