MULTI MEDIA PAGE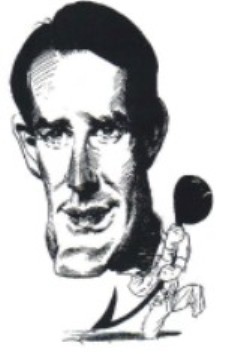 From the North Shore Times August 1994: caricature by Ulf Kaiser
IL LUTTO DELL' UNIVERSO -THE MOURNING OF THE UNIVERSE
Bavarian Radio and Television -The Bavarian State Opera Studio -St Michael's Church Munich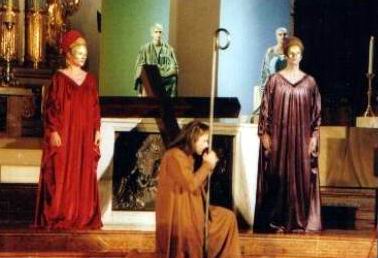 Martin Cooke as St Peter
in the sacred opera
Il Lutto dell'Universo -The Mourning of the Universe
by Kaiser Leopold I of Austria.
SÜDDEUTSCHE ZEITUNG
Only the best is to be reported from this performance...the solo roles in this opera were performed with magnificence rarely heard.
This work is an interesting enrichment for Munich's summer of music.

MÜNCHNER MERKUR
This work was performed for the first time in Germany and with great success
Performed in the Munich Opera Festival in July 1990 as a co-production between St Michael's Church, the Studio of the Bavarian State Opera and Bavarian Radio and Television Channel 3. This production took place to mark the 450th anniversary celebrations of the Jesuit church of St Michael in Munich and the 500th anniversary of the foundation of the Society of Jesus.
ELIJAH
SALZBURG 2000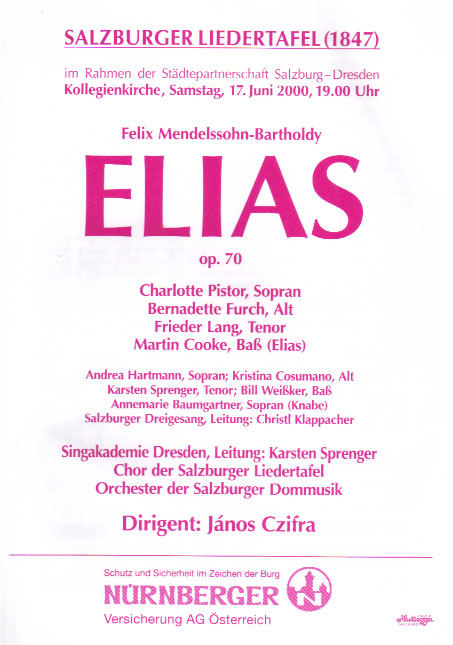 SELECTED ARIAS FROM THIS PERFORMANCE
please click on the links below
Recit: Der Du Deine Diener machst zu Geistern
Aria: Ist nicht des Herrn Wort wie ein Feuer
PENZBERGER MERKUR: ELIJAH 1999
The solo voices were outstandingly cast with... and Martin Cooke who as the bass soloist had the most demanding part which he mastered effortlessly.
SÜDDEUTSCHE ZEITUNG: ELIJAH 1999
High appreciation also for...and Martin Cooke (Bass): an impeccable, very balanced quartet of soloists with impressive vocal qualities and excellent articulation throughout; everything here was in place.
J.S. Bach Selected Arias live

SÜDDEUTSCHE ZEITUNG: CHRISTMAS ORATORIO (J.S. Bach)
Above all, the Australian baritone Martin Cooke, who is also engaged at the Bavarian State Opera, excelled in the arias with his warm voice and was able to present the recitatives with creative power.

PENZBERGER MERKUR: CHRISTMAS ORATORIO
Martin Cooke with his very precise baritone voice fitted well into the solo quartet.


Weihnachts Oratorium-Christmas Oratorio
Please click on the link below
Grosser Herr

SÜDDEUTSCHE ZEITUNG: St MATTHEW PASSION
Martin Cooke, whose interpretation of the role of Jesus is exemplary, achieved this again in an outstanding manner.

LE MERIDIONAL: St JOHN PASSION Marseille
The pure timbre of Martin Cooke who was able to give the role of Jesus so much dignity, serenity and nobility.

Cantata Nr.82 Ich habe genung
please click on the link below

SÜDDEUTSCHE ZEITUNG: CARMINA BURANA 2001
With his warm timbre, Martin Cooke was able to achieve a performance of depth in his role. The choir concluded the first half with a big sound and powerful expression; with a voice of core and passionate expression Martin Cooke led one into a drastic and boundless male world. In a small scene he was able to effectively present the figure of a lusty abbot in a bishop's mitre in a graphic manner.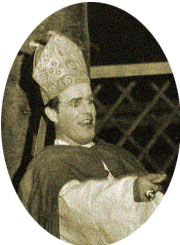 Martin Cooke as the drunken Abbott of Cucaniensis-Nonsense Land
Carmina Burana by Carl Orff.
SÜDDEUTSCHE ZEITUNG:CARMINA BURANA
The performance of the soloists was without question convincing. First and foremost was baritone Martin Cooke with his comic acting ability. Above all Cooke excelled with his expressive velvet toned deep voice. The presentation as the gambling abbot he converted into a piece of opera-buffa.

MÜNCHNER MERKUR: CARMINA BURANA SEPTEMBER 2003
First and foremost Martin Cooke displayed not only great vocal ability but also the gift of acting.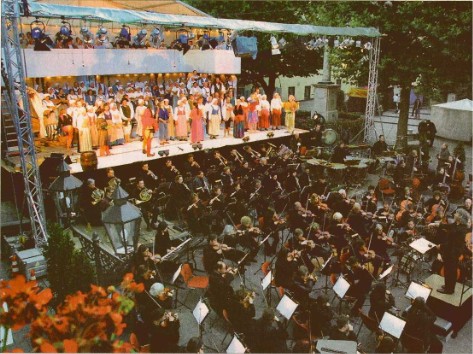 Carmina Burana
Out-door performance which was the highlight of the Millennium Celebrations of the city of Wolfratshausen near Munich
SÜDDEUTSCHE ZEITUNG: CARMINA BURANA SEPTEMBER 2003
An effective framework therefore was made for the soloists which did not remain unused. Baritone Martin Cooke surprised with warm lyricism however also with melodic lightness.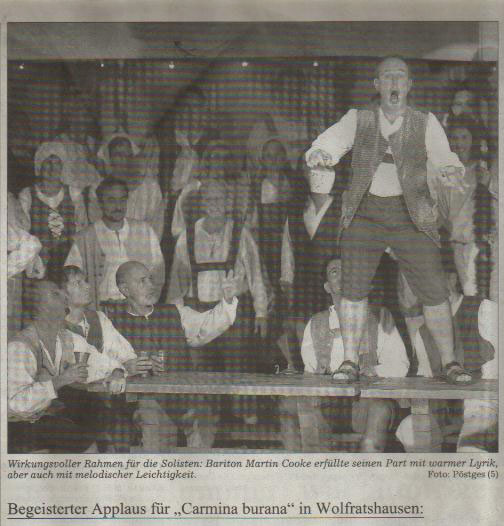 SELECTED PRESS HIGHLIGHTS
SÜDDEUTSCHE ZEITUNG: St LUKE PASSION (Telemann)
Absolutely outstandingly cast was the role of Jesus with the bass Martin Cooke from Sydney.
SÜDDEUTSCHE ZEITUNG: THE DETTINGEN TE DEUM (Händel)
Martin Cooke shaped his coloratura with good volume. Especially in the upper range he offered full and round tones.

PENZBERGER MERKUR:THE MESSIAH
And finally Martin Cooke added the missing timbre with his secure bass voice and strong expression.

MÜNCHNER MERKUR:BRAHMS REQUIEM
Last but not least-Martin Cooke who was able to shade his full and smooth timbered voice from a gentle sotto voce to full vocal power; bestowed upon the listeners' ears unclouded pleasure.

SÜDDEUTSCHE ZEITUNG: BRAHMS REQUIEM
Martin Cooke was outstanding in this performance with his beautiful voice and musically sovereign performance.

MÜNCHNER MERKUR: St MATTHEW PASSION
Martin Cooke was able to present the role of Jesus in a wonderfully sonorous and dignified manner.