In loving memory of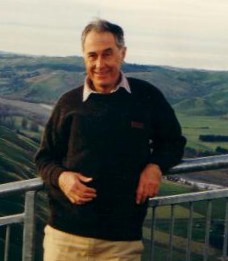 ANTHONY WALLINGTON

(10.12.1942 - 26.12.2003)
(Old Boy of St Aloysius' College Milsons' Point 1959)
Anthony Wallington was an outstanding Australian.
Anthony Wallington was a major prize winning vocal student of the distinguished
Australian mezzo soprano Evelyn Hall de Izal.

Many will remember him as Grand Finalist and the winner of the Third Prize
on the television talent quest programme SHOWCASE 67 compered by Gordon Boyd.
Anthony Wallington was a popular and regular performer on many of the leading
television variety programmes of the 1960s.

Anthony won the inaugural scholarship to the Sydney Conservatorium Opera School and was a soloist in the original cast of the J.C.Williamson's Australian tour of the Sound of Music. After his arrival in Europe the Lido nightclub in Paris engaged him as principal chanteur and compere for several lavish stagings in 1967 and he also appeared as a soloist in operatic productions.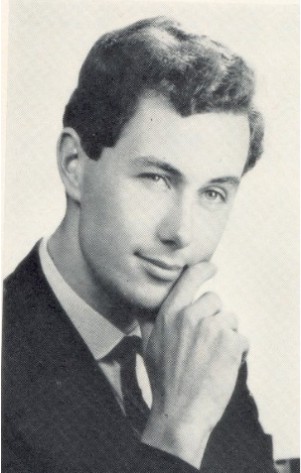 Anthony Wallington
publicity photograph for
The Lido in Paris
1967
Anthony had the voice, stage presence and artistry for a major international career, which he actually had begun but chose instead to dedicate his life to the service of others as an excellent and compassionate general practitioner.
Ad Majora Natus
truly describes the person of Anthony Wallington.
He was a role model for me and many ex Aloysians aspiring to become professional singers.
Requiescat in Pace
"A Whistle Stop Tour of the Land of Song" a recital given by Anthony Wallington baritone and Gerard Carter piano
at the Fred Hutley Hall, North Sydney Council Chambers, North Sydney, on Saturday 3 November 1984 at 8 pm

Our thanks to Gerri Nicholas
archivist of St Aloysius' College
who has generously provided the historical photographs of Anthony Wallington
as a student at the College and as a young man
MEMORIES ABOUT THE LIFE OF
ANTHONY WALLINGTON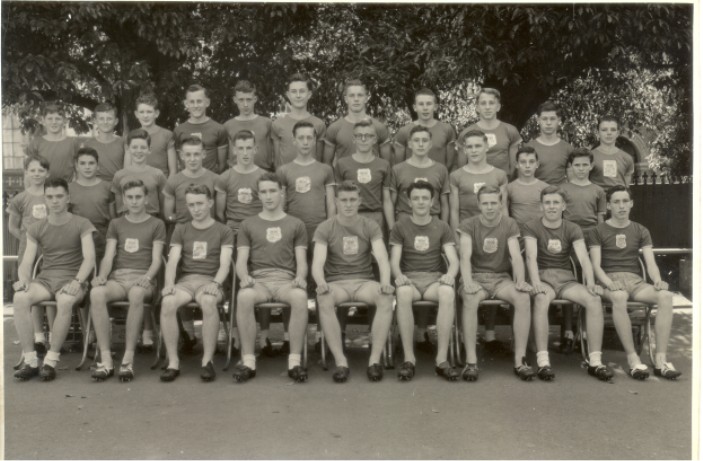 College Athletic Team 1957
Anthony is sixth from the left in the back row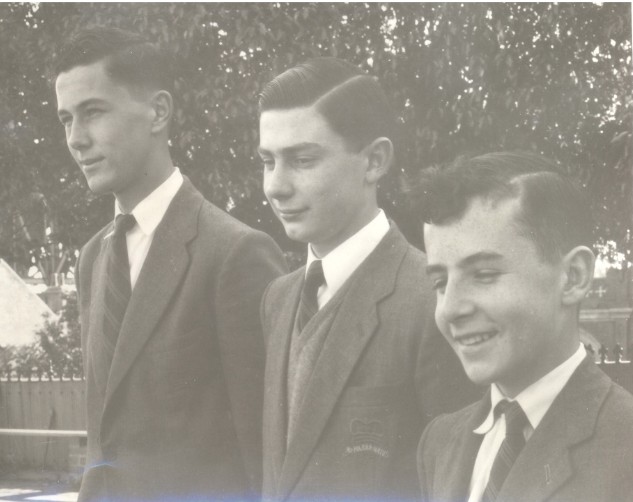 The Senior Debating Team of 1959
Anthony Wallington
Melvyn Morrow and Jerry Coombs
Mel compered our concerts in 2004 and 2005

FRATER AVE ATQUE VALE
Eulogy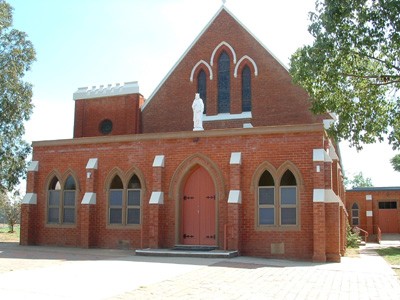 St Edward's Catholic Church
Canowindra
31.12.2003
By
Phillip Wallington
It seems so long ago but in fact just a few days since I visited Anthony in the private hospital in Orange to wish him a happy birthday. It was Wednesday, December 10th…His 61st birthday.. His last Birthday…My best gift to him was being there.. His great gift to me was his being alive to let me share that day.. for he was desperately ill.. I had a birthday present for Anthony. It was one which I had thought about and purchased for him many weeks before we knew he was fatally sick. It was nothing of great value but something that I believed he would appreciate and cherish.. It was an old etching by the nineteenth century French Master Auguste Dore.., it was Part of Dore's superbcorpus of black and white illustrations from the series illustrating episodes from Cervantes' epic "Don Quixote" It showed the lean , impossibly romantic and chivalrous knight, Quixote on his charger.. Beside him, jogging precariously on his mule was the newly recruited squire, Sancho Panza. The pair were just beginning that epic literary journey that has given them and Cervantes an immortality of sorts.
Now I realise that very, very few of you would have tackled Don Quixote despite the fact that after the Bible it is the most translated book on earth…Even in translation it's daunting… In the original vernacular it requires a mastery of the Spanish Language and it's idioms… But despite that, it's a work of world literature that has given us a whole raft of ideas and concepts that even four centuries after Cervantes death still challenge and inspire us. The old adage "The best sauce in the world is hunger" was first put into the mouth of the errant knight, Don Quixote. Likewise from the pen of Miguel Cervantes came the proverbial sayings… There are but two families in the world, as my grandmother used to say, the Haves and the Have-nots."
And that pithy advice… "Patience and shuffle the cards".
Don Quixote de la Mancha- the Knight of the Sorrowful Countenance… How many of you who have visited the Wallington home have seen the superb pottery figurine of Don Quixote which sits on the table in Anthony and Margaret's lounge room…A table full of wonderful music yet another of the talents of this man…. My brother Anthony….my big brother as I knew him for he was not quite two years older than I. That pottery statue encapsulates a quality of Anthony that always stood out. He was a sort of knight errant….like Quixote in the old tale…a man something out of his time….blessed with many old fashioned virtues and quite a few prejudices against the madder aspects of the modern world.
How did you know Anthony Wallington…? As a good friend as he was to so many people here today… As a son in law, a nephew, an uncle ,cousin, brother in law…As the loving father to his daughters Isabella, Nadja, Veronica and Gabriella. And Margaret …Anthony's wife… She shared his deepest feelings…. His joys and his sorrows.. His trials and his triumphs… He was her husband, her lover and her life's partner as they worked to build a future for their children.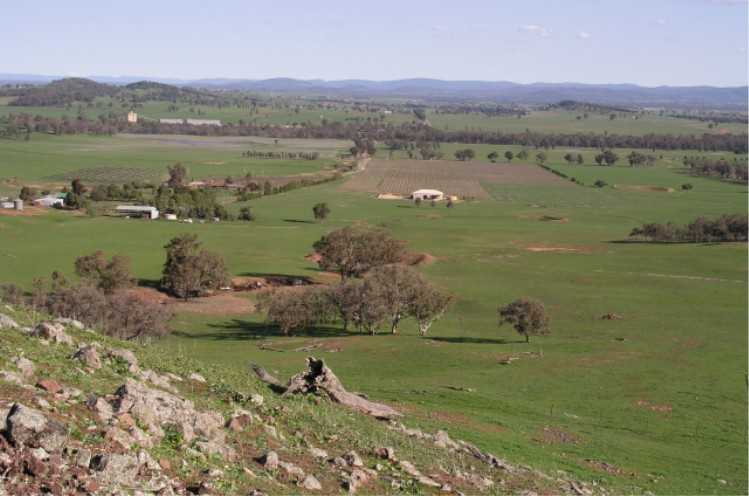 THE WALLINGTON FARM & WINERY

August 2004
Canowindra
New South Wales
Australia
The property at Nyrang Creek and the Wallington Winery are a testamento a shared vision realised. Anthony was also a horseman.. I can picture him as a horseman riding by… He loved his horses and knew their ways and that's yet another legacy that he passed on to his daughters. He was generous with his knowledge and proud of the riding skills of all the girls. Likewise the love of music that they all share.
My brother, Anthony was a man of many talents. He was a singer of songs an accomplished professional musician. He was in the cast of J.C.Williamson's production of Lerner and Lowe's "Camelot" when it opened in Adelaide in 1963… and he toured with the show to Melbourne… In the midst of what were to become extremely protracted medical studies, he won the inaugural scholarship to the Australian Opera School.
He travelled overseas to become an opera singer, but his good looks and fine voice saw him snapped up by the Lido nightclub where he was premier chanteur in some lavish productions… But the professional stage was not to be Anthony's career. He gave up the bright lights and the bohemian delights of Paris to come back to Sydney to resume the slog of his medical studies. Anthony was too serious a man to while away his days as an entertainer… His true vocation was to be that of a healer…a doctor who practiced his craft for almost three decades much of that here in this community… He has touched many lives and helped many people.
Anthony's genius was often expressed in friendship. Over the years he managed to keep in touch with his extended family and many of the old friends and relations of our childhood days…friends of my parent's generation. His careful concern for friends, relations and even former patients from his former life in Sydney never ceased to amaze me. Anthony's healing talents also expressed themselves informally…Nyrang Creek has welcomed more than a few troubled souls who have stayed with Anthony and Margaret and have found some peace and normality in the vigorous and happy doings of the Wallington family life and the workings of a farm and vineyard.
He was also a passionate advocate for his patients and the plight of those suffering under the health system… Most recently he took up the cudgel against the faceless bureaucrats and for his trouble ended up plastered all over the front page of the Sydney Morning Herald and on the airwaves of talk-back radio… Not the sort of anonymity that usually surrounds the doings of a country G.P.
But for all that Anthony was not given to bearing his soul or unburdening himself of intimate problems. He possessed an elegant aloofness… I've often seen him with a far away, contemplative look. He possessed that quixotic quality. He was a thinker and a dreamer as well as a doer. Anthony to me was almost impossibly elegant…even when dressed in the comfortable clothes he preferred he was never without an air of unconscious quality. .he was a man of many moods…melancholy ,tough, vulnerable…self-sufficient but somehow helpless, robust and refined, obtuse and subtle…Was I alone in wondering what was going on behind the pensive expression? Usually, I suspect, his brain would be engaged with one another of his three great loves… Medicine, Music or Margaret…
Anthony died as he'd lived surrounded by his devoted family and comforted by his faith in God.
But to return briefly to Don Quixote and Cervantes… This time the squire Sancho Panza speaks saying… "Blessings on him who invented sleep, the mantle that covers all human thoughts, the food that appeases hunger, the drink that quenches thirst, the fire that warms cold, the cold that moderates heat, and , lastly the general coin that purchases all things, the balance and weight that equals the shepherd with the king, and the simple with the wise."
So sleeps Anthony.
I will conclude with the words of Chang Heng written 19 centuries ago.. May they comfort us all today.
The dead man answered me:
"In death I rest and am at peace: in life I toiled and strove.
Is the hardness of the winter stream
Better than the melting of the spring?
All pride that the body knew,
Was it not lighter than dust?...
Of the Primal Spirit is my substance; I am a wave
In the river of Darkness and Light
.The Maker of All Things is my Father and Mother,
Heaven is my bed and earth my cushion,
The thunder and lightening are my drum and fan, the sun and moon my cradle and my torch
The Milky Way my moat, the stars my jewels.
With Nature am I co joined;
I have no passion, no desire.
Wash me and I shall yet be clean.
I come not, yet I am here:
Hasten not, yet I am swift"
The voice stopped and there was silence.
Phillip Wallington 31/12/03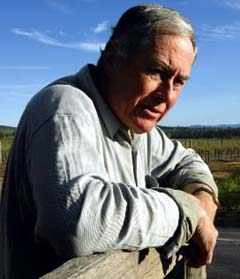 Anthony Wallington
A TRIBUTE
By
Gerard Carter
lifelong friend, godfather to his children and Anthony's pianist
My lifelong friendship with Anthony, spanning nearly six decades, started at Loreto Convent in Kindergarten of 1948 when Anthony, Terry and Michael Christie, Joe Horan, Philip Craddock and I were classmates. Over the course of three years we passed through the tutelage of Miss Muriel, Mother Consolata IBVM and Mother Anthony IBVM, and in 1951 we crossed the hill separating Kirribilli from Milsons' Point.
Anthony, even in his early days at St Aloysius', showed that he was prepared to go out on a limb in support of what was right. He would oppose with every fibre of his being those who bullied others - with his tall, sturdy frame no-one ever tried it on him - and standing-up for what he believed in was an integral part of his personality all throughout his life.
Anthony developed his rich baritone voice, almost a bass baritone, as early as the sixth class at St Aloysius', and I recall an incident after the Term III exams were over. Our teacher was a Mr McGrath and on this particular morning in late November 1954 we had conned him into letting us put on an impromtu concert in the classroom. After a seemly reluctance Anthony ascended the classroom stage and started to sing fortissimo con gran' espressione' in full operatic mode. Meanwhile, as we all knew well, Fr Hession SJ, who was very Northern English and who was affectionately known as "Chaffie", was conducting a class in the adjoining room, which was separated by folding doors. Anthony was by this time well and truly pouring out his heart and soul when Father Hession entered our classroom somewhat peremptorily and intimated how overwhelmed he was by the whole ruckus. This brought the song and the general merriment to an end but not, I hasten to add, Anthony's enthusiasm for singing which continued unabated.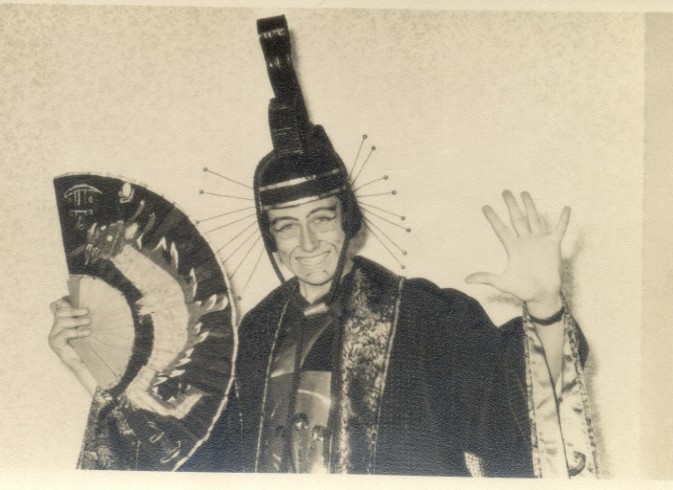 Anthony Wallington as the Mikado in 1958

This production was directed by Fr Richard Comerford SJ and Mr William Caspers
who together, began the G&S tradition at St Aloysius'
School life meanwhile continued at St Aloysius', with its daily round of classes, exams, chapel, cadets and sport, as we proceeded towards leaving year 1959 when Anthony's personal qualities were recognised and he became a School Prefect and Cadet Under Officer and represented the College in the 1st XV.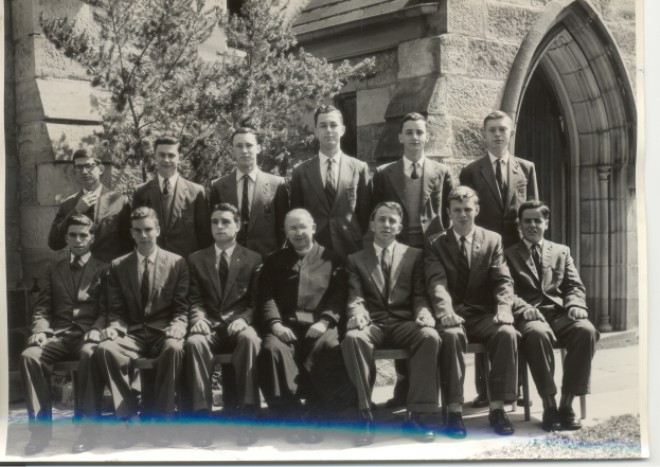 Anthony Wallington (standing centre) with Fr J. Casey SJ and the Prefects of 1959

outside the "Old Chapel"
At university, Anthony, Michael Christie and Philip Craddock, studied medicine, while Terry Christie, Joe Horan and I opted for law. Anthony subsequently deferred his medical studies to take up the inaugural opera scholarship at the Sydney Conservatorium of Music under the distinguished operatic and orchestral conductor Joseph Post. He sang in Opera, toured in the Australian production of Camelot and regularly appeared on prime time television in the Barry Crocker Variety Show, turning to good advantage his early training as a soloist in the Gilbert and Sullivan operas under Father Comerford SJ and Mr Bill Caspers.
To pursue his career he travelled overseas, was Premier Chanteur and Master of Ceremonies for twelve months at the Lido in Paris, and performed operatic roles such as the Sacristan in Puccini's Tosca. On his return he completed his medical degree, moved to King Island where he was the only doctor on the Island, finally setting up private practice at Cremorne.
He sang Franz Schubert's song cycle Winter Journey in the baroque splendour of the Hobart Town Hall. Schubert's last composition is technically and musically demanding and emotionally draining. Anthony sang it not only from memory, but also in Müller's original German.
He sang Panis Angelicus by the Belgian-French composer Cesar Franck, and other sacred songs, at the a Sunday afternoon concert in the Chapel of the Sacred Heart Convent, Rose Bay. I had the privilege of accompanying Anthony on the beautifully harmonised, authentic French Symphonic Organ by Puget et Fils.
At North Sydney Town Hall Anthony presented Land of Song a conspectus od the vocal repertoire. I have this on compact disc, which preserves Anthony for posterity at the height of his powers and in all the versatility of his talent.
Anthony was as comfortable singing in French, German and Italian as he was in English though he invariably declined my half-serious invitation to sing None but the Lonely Heart in Russian. It was he who introduced me to Tchaikovsky's songs, which are some of the most beautiful ever written. He was at home with all kinds of music: early Italian songs, musical comedy, Mozart arias, character songs, Schubert Lieder, Gilbert and Sullivan and Viennese folk-songs. He sang stylishly and convincingly and set great store by clear diction and appropriate gestures, as insisted on by his teacher Evelyn Hall de Izal and his vocal coach Joannie Brandmann.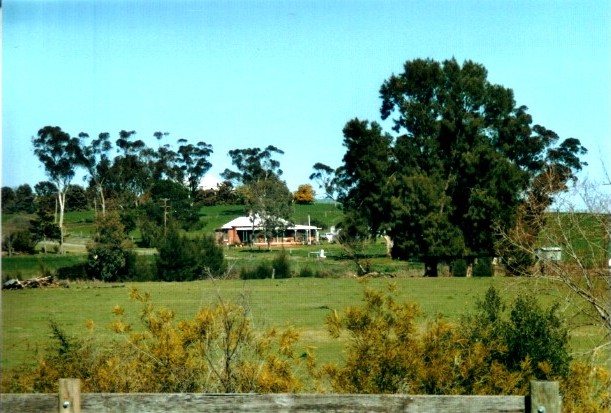 The Old Homestead
Canowindra
After his marriage to Margaret they moved to Canowindra where they bought a farm property and through unremitting labour established vineyards and a boutique winery, and continued in earnest the raising of their young family, eventually consisting of Isabella, Nadja, Veronica and Gabriella. From his first marriage, Anthony also had an older daughter Sonia who lives in Sydney.
I had many happy times with the family at their Canowindra home and farm. Anthony in the meantime established himself in general practice in Cowra and as an Anaesthetist at the hospital. After the floods of the early 1990's Anthony and I participated in a concert at the Cowra Town Hall in aid of the flood victims.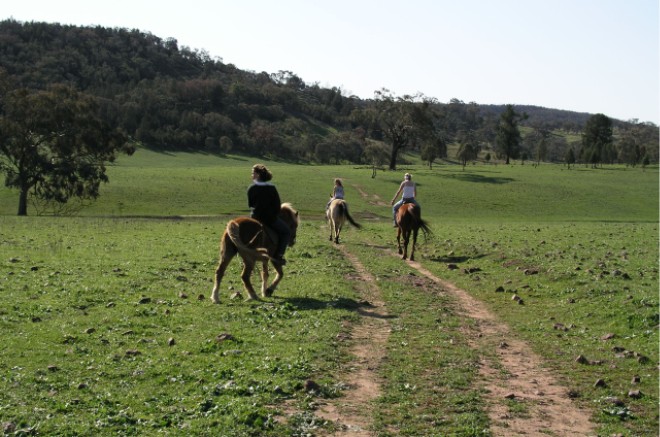 The Farm and Nadja, Veronica and Gabriella
Isabella was at boarding school
Anthony was always loyal to his old school as he was to his family, friends and colleagues. His mother Belle had in her time been a tireless worker and costume maker for the annual Gilbert and Sullivan operas and his father Maurice had coached the College rugby teams.
His parents were generous supporters of the College (they paid for the electric lighting of the Junior school classrooms) and were generous also in hospitality to their many friends. I well remember, during my early school days, a Saturday morning children's party at the former Farmer's department store and an excursion to Shark Island. This generosity of spirit manifested itself in Anthony himself whose first concern was always for the welfare of others and in Margaret who never spared herself to make visitors welcome.
Anthony was a dutiful and affectionate son, a caring brother and a loving husband and father. On a professional level he was a skilful and compassionate doctor, respected and trusted throughout the community. I remember his pleasant, well-modulated voice, his quiet dignity, his sense of humour and above all his warm and generous nature.
Yet shortly before his sixty-first birthday he was suddenly and cruelly struck down with pancreatic cancer. He bore his suffering with his characteristic patience, courage and outward good spirits. As a doctor who had attended many cancer patients he was under no illusion as to what lay ahead.
Anthony devoutly practised and was fervently committed to the faith, which he had been instilled in him from his earliest years. His faith gave him strength in his final illness as it had given him strength throughout his life. Although extremely ill he attended Christmas Mass at St Edward's Church, Canowindra and received Holy Communion. He died on Boxing Day surrounded by his family.
The last time Anthony and I made music together was towards the end of a happy evening with Margaret and friends in late April. The final song was There lived a King.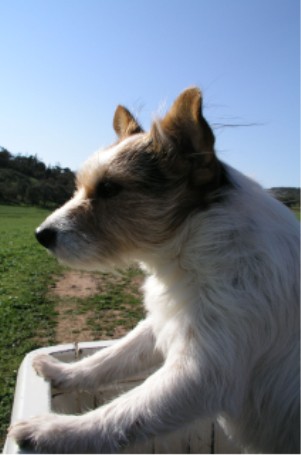 BOSWELL
Anthony's dog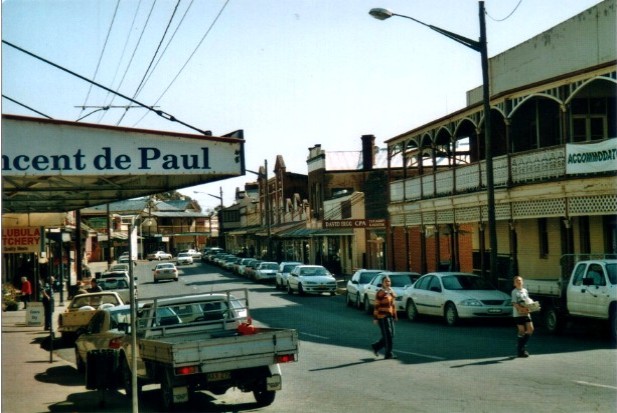 Beautiful Canowindra
in the Central West of
New South Wales
Australia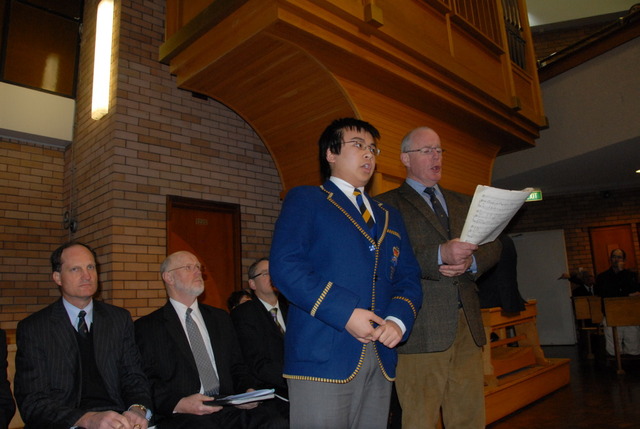 Jonathan Chan Year 11 and Martin Cooke SAC1972 singing César Franck's Panis Angelicus
at the SAC Father and Son Mass Friday, 27th of August 2010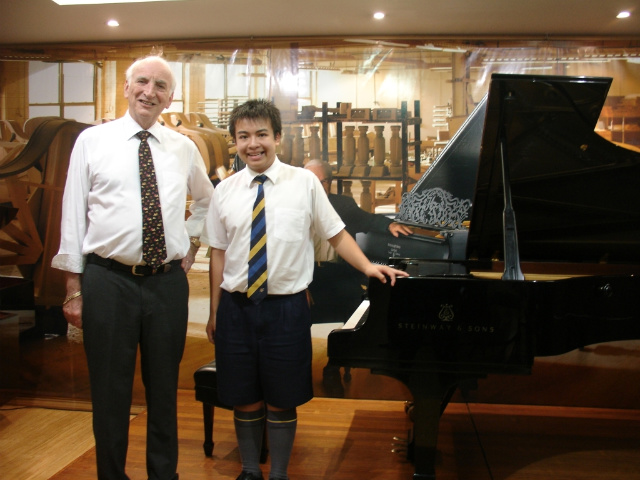 JONATHAN CHAN, AMusA (Piano)
Inaugural winner 2006
of the
Dr Anthony Wallington Memorial Music Scholarship
Photo taken at the presentation of prizes in Dec 2009 of the Themes & Variations "Steinway Emerging Artists Recital Series" competition with the adjucator Prof. Michael Brimer, jury member of the Sydney International Piano competition

Year 11 student, Jonathan Chan is the inaugural recipient of the Dr Anthony Wallington (SAC 1959) Music Scholarship at St Aloysius' College. Skilled in multiple instruments, Jonathan is a member of the College Choir, Chamber Choir, String Ensemble and String Quintet. He is the Concertmaster in the College Orchestra and is also the College organist. He was selected for the 2009 Symphony Australia's Scholar Conductor's program and also holds the post of church organist at St Mary Magdalene's Rose Bay. Jonathan has been invited on several occasions to perform on the pipe organs in Sydney Town Hall and St Mary's Cathedral.
As a singer, Jonathan performed in Opera Australia's children's chorus in La Bohème and Tosca in 2005. (In 2006, Mrs Wallington presented Jonathan with Anthony Wallington's personal copies of the La Bohème and Tosca scores.) Jonathan played the principal role of Javert in Monte Sant' Angelo Mercy College's production of Les Misérables and the lead role of Max Bialystock in the 2010 Aloysius' Musical, The Producers. He recently won the 2009 Fr Christopher Willcock SJ Vocal Competition at Aloysius'. An accomplished pianist, he attained his Associate Diploma at age 13. Jonathan has won numerous prizes in various Eisteddfods and competitions, including the 2008 NSW Secondary Schools Concerto competition, 2008 Sydney Organ Competition and Steinway's 2009 Emerging Artists Recital Series competition in Sydney.
Encouraged by the College's philosophy of shaping "men for others", Jonathan has offered his time and talents to perform at many charitable functions and fund-raising concerts in support of the poor and disadvantaged.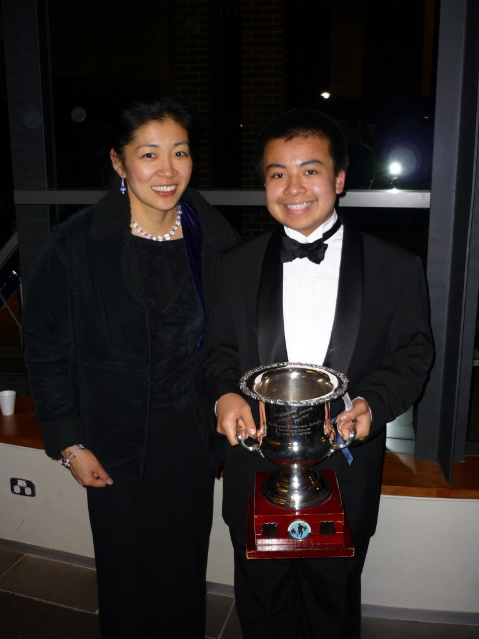 Jonathon won the NSW Secondary Schools Concerto competition in 2008 (with the adjucator, Hikari Nakamura)

THE DR. ANTHONY WALLINGTON
MEMORIAL
MUSIC SCHOLARSHIP
by
Fr Ross Jones S.J.
Rector
On Friday last (4.9.2004), I joined an end-of-debating season coaches dinner, which included eight young Old Aloysians (and a Old Knoxonian!) who have spent the season priming and preparing our young men, the budding viri eloquentes. The next evening, our Boys' Chapel was at capacity when twelve more Old Boys and many current scholars gathered to pay tribute in music and song to the late Dr Anthony Wallington. The lynch -pin of this endeavour was Martin Cooke, graduate of 1972, who is currently with the Bavarian State Opera and, apart from that, regularly performing across Europe. Also from abroad, French horn player, Greg Stevens (SAC 1997), joined us from Germany where he now studies music. It was as good a night as you would have anywhere.

The proceeds of the evening sowed the seeds of a Music Scholarship named for the memory of Anthony Wallington. If you have read his biography in the recent Aloysiad, you will surely agree that here was a man who embraced every opportunity that the school had to offer him. In turn, he extended every one of his talents. And, both at school and beyond, it was clear that he lived out all the values proposed to him here. He was a just and a compassionate man. So the College is proud to name a scholarship fo r such a son.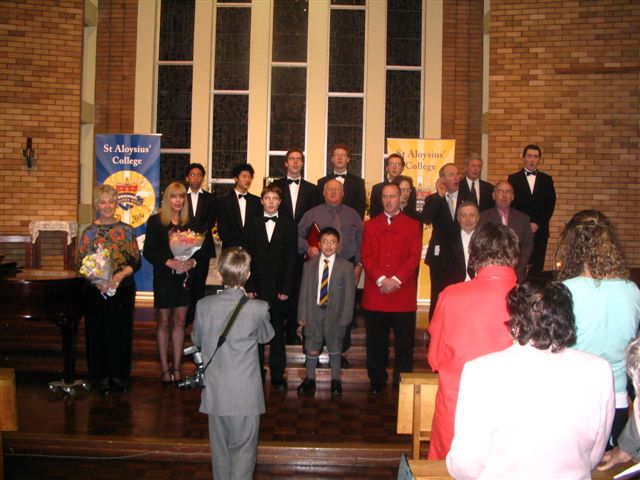 Our first concert in September 2004

Perhaps some of might wonder why we are establishing a music scholarship. Already at the College we have academic scholarships and bursaries. But we do not offer scholarships in particular subject areas. And we certainly do not trade in sporting scholarships. But many of our Jesuit schools do have music scholarships. It seems to me, music is different. Music is more than a mere subject. It is a craft which has technical and aesthetic dimensions. It extends a boy in so many ways. It teaches the discipline of individual practice, and hones the harmony of the ensemble. It allows for the brilliance of a soloist and gives expression to a team. As an academic subject, it is for the boy. But as part of the tapestry of this school, it is fo r the delight of others. Here, you will find Aloysian musicians performing at an Open Day, appearing in musicals, being a regular part of each College Assembly, providing background music to an art show, accompanying a P&F dinner, even playing alongside their erstwhile rivals in the CAS Music Concert. And, of course, occupying a very special place in the heart of the school, the Boys' Chapel. It is in that place we come to understand what St Augustine meant when he said "to sing is to pray twice". It is why one seventeenth-century Jesuit missionary to South America could once boast, "Give me enough musical instruments and I will convert the whole country."
So, at that week's end, it was twice gratifying to see how those young and not so young men were drawn back to their old school, not out of anymaudlin sentimentality or stunted inability to move on, but in a gratitude that evoked service – and which would have such opportunity shared.
The Gonzagan Thursday 9.9.2004
JUST WHAT THE DOCTOR ORDERED!
REPEAT PRESCRIPTION 2005!
Thursday August 25th at 7.30pm
in
The College Chapel
A concert by Old Boys, Students and Staff of the College
to raise funds for the Dr Anthony Wallington Memorial Music Scholarship
OUR CONCERT ON THURSDAY AUGUST 25th WAS AGAIN A SUCCESS.
WE WOULD LIKE TO SINCERELY THANK
ALL THOSE WHO HAVE GENEROUSLY SUPPORTED THIS VENTURE.
The Gonzagan
Thursday September 1st 2005
by

Fr Ross Jones S.J.

Last week there was no shortage of the Arts at the College. Once again Old Aloysian Martin Cooke (now with the Bavarian State Opera) was instrumental in organising the second of his "Just What the Doctor Ordered" Concerts - principally for the ongoing development of the Dr Anthony Wallington Memorial Music Scholarship.
Old Boys Mel Morrow, Pastor de Lasala and Gerard Carter added to the colour. There were some wonderful performances by the College "Europe Tour Choir", fresh from their overseas triumph of England and the Continent.

It was easy to see why they had been so well received and why Martin Cooke spoke so highly of their appearances in Austria. Then there was the opportunity to enjoy performances from the inaugural winner of the Anthony Wallington Scholarship,
Jonathan Chan. Currently in Year 6, Jonathan takes up the Scholarship next year. Already he has been called upon as
something of a scholar-in-residence to perform at school functions, most recently at the Old Boys' Annual Mass.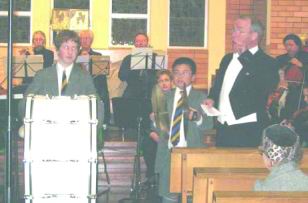 Jono and Alex helping me in our rendition of a beautiful Mozart song:
"I wish I were the Kaiser!"
Our concert was a night of Bach, Mozart, Wagner and Mollenhauer in music both sacred and secular.
Melvyn Morrow, a classmate and close friend of Anthony Wallington is the quintessential MC. His feeling for an occasion, style and humour add a quality to a concert that can only be described as magical. He rushed backed especially from Melbourne where he was on the audition panel for the forthcoming musical "Dusty".
Thank you Mel.
Alexander Knight as winner of the Fr Chris Willcock Instrumental and Vocal Scholarship gave an excellent rendition of the "Prelude No. 1" by George Gershwin.
Jonathan Chan's performances on violin and organ clearly showed us all that he fully deserved his award and the Wallington family were delighted with his performance standard and charisma on stage.
Margaret Wallington presented Jono with Anthony Wallington's piano scores of Tosca and La Boheme and to see Jonathan's face as he received the scores is something I will never forget.

Jono can play the music of Tosca and Boheme - with or without the score! - as well as any seasoned repetiteur in a major opera house. Jonathan is now a member of the childrens' chorus at Opera Australia and performs in both of these operas. Helen Chan reported that he went to bed that night with the score of Tosca cuddled up in his arms like a teddy bear.
Anthony Wallington would have been be very pleased I'm sure.
A special highlight was the Touring Choir's performance of the Pilgrims Chorus from Tannhäuser by Richard Wagner under the direction of Michael Hissey and Lindy Montgomery's beautiful interpretation of Mozart's Laudate Dominum with the choir and accompanied by the chamber ensemble Orchestra 143 under the baton of David Angell.
It was a pleasure to assist Michael Hissey who is Director of Music at the College, Peter Kneeshaw and Lindy Montgomery with the SAC Touring Choir European Tour 2005. It was a fabulous experience for us all and the boys were excellent ambassadors for their families, school and country. Thank you Michael.
This year the SAC Fathers Choir also performed the spiritual "Hush! Somebody is calling my name" and Fr Chris Willcock's new anthem composed especially for St Aloysius College, "We have no other boast except the cross". Paul Haire and his choir of dads now sing regularly in parishes around Sydney on Sundays which sadly do not have a choir. It was terrific that they were on our programme this year.
Gerard Carter, Anthony Wallington's best friend, pianist and godfather to his children played a fine rendition of the "Ballade in Ab major" by Frederic Chopin. Thank you Gerard.
I would also like to thank my good friend Pastor de Lasala for his excellent contribution with Bach's organ prelude and fuge in A minor known as "The Great". Pastor has literally been my right hand and man on the ground in Sydney for our concerts.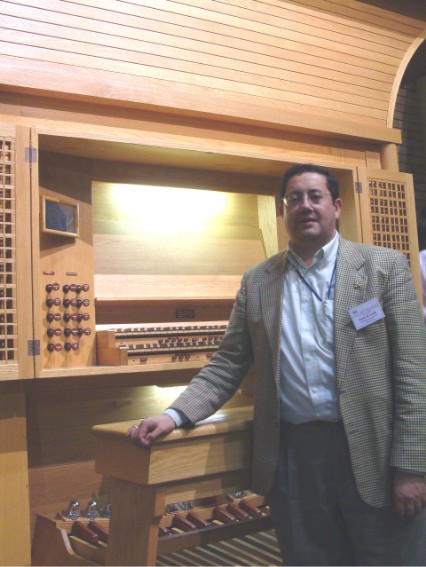 Pastór de Lasala at the Letourneau Organ
Finally our thanks to Murray Happ and Trish Flynn of the Foundation for making the beautiful programme and carrying out all the logistics necessary for such an event.
My association with the College is a source of great joy and fulfillment. I feel as if I have come the full circle by returning to the special place where my love for performing began and where I made the decision to make a career in music and opera.
for further details about supporting this scholarship please contact
Mr Murray Happ
at the College on
+61 (2) 9936 5561