Fr. Tom O'Donovan SJ OAM

6.9.1921-26.1.2013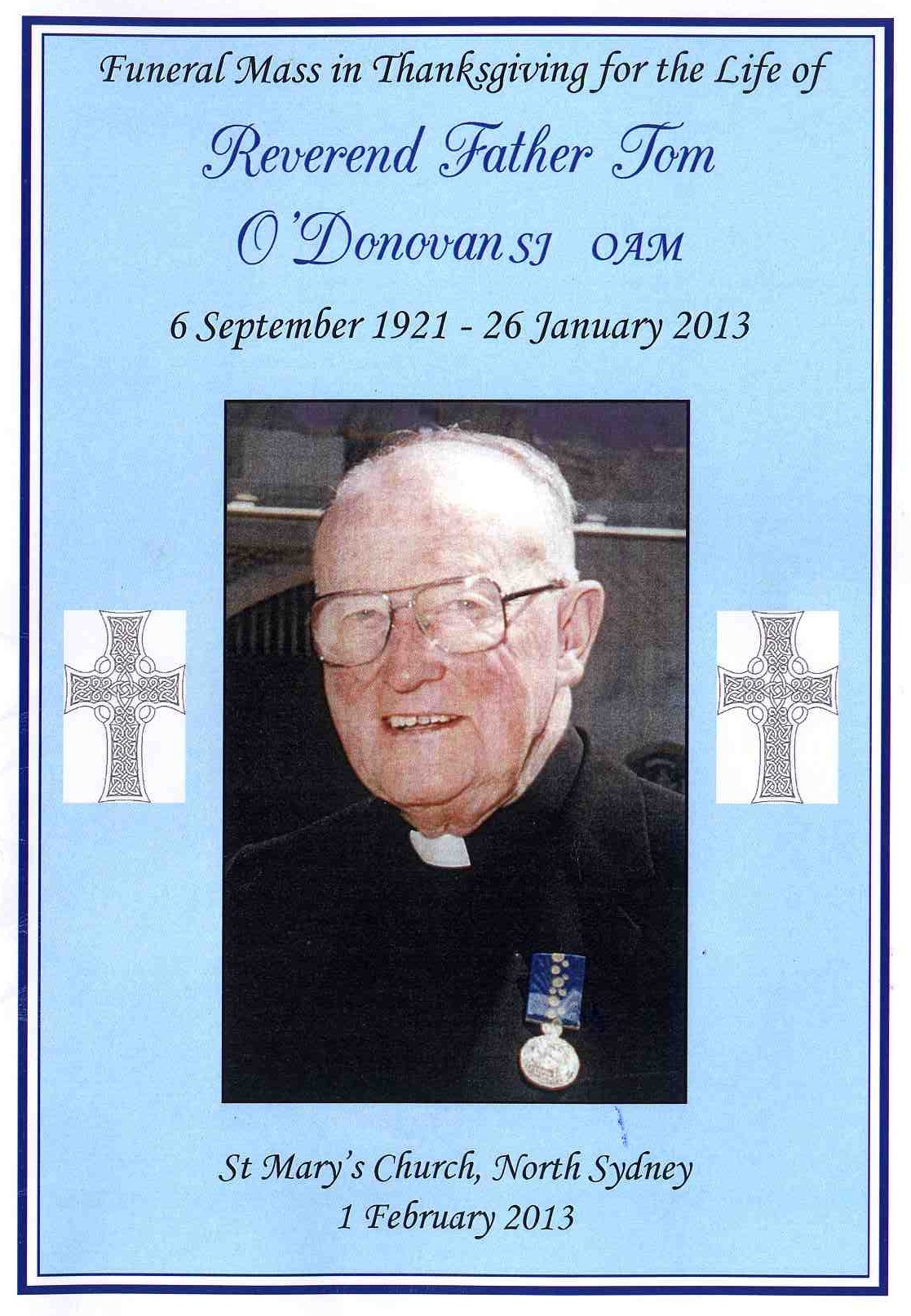 Memorial Webpage
Eulogy from the Requiem Mass - by Paul Brogan
&
Tribute by Fr Ross Jones SJ, Rector of St Ignatius College Riverview
*********************************************************************
A moving reflection from our classmate Tony Hall SAC 1972
I was there yesterday at the Mass and it was a great tribute to my dearest friend. I touched his coffin and told him that I loved him and thanked him for all he did for me. I shed some tears as his coffin left the Church. There were many of my former students, priests, Riverview Parents and Riverview staff who I saw after the Mass. It was a great reunion. I am still finding it very difficult to overcome his passing.
The speeches were terrific and one old boy of Riverview spoke superbly about Toddy and captivated him so well. We laughed as he spoke about the fella and how before football matches and at Rowing we use to have to say a prayer. I also met a wonderful man Peter O'Brien who knew all the Jesuits and remembered me at Riverview. He said I was a fantastic teacher, football coach and Debating Master. I sat next to him up the front at the Mass. We met an hour before the Mass and talked all that time. It was a wonderful experience. He was educated by the Jesuits in Perth and then moved to Sydney.
So it was a memorable day. I miss Fr O'Donovan so much and now I pray to him in heaven and ask him to look after me still here on this earth. Thank you Martin for the tributes you have paid to him.
and from Chris Murtough SAC 1971
I attended the Vigil Mass at St Mary's Rydge Street at 7 pm on Thursday 31 January 2013 following Tom/Toddy's passing on Australia Day with my good friend and cousin Ian Grant after which Ian and I had a delightful chinese meal at Crow's Nest during which Ian told me of Tom/Toddy's career at Riverview following his period as Rector at St Aloysius' College.
Tom was a great influence in my life and the life of many at all stages in his long and productive life as a Jesuit Priest.
I understand that the past couple of years were not particularly kind to Tom as he slipped into dementia.
As I was not sports minded I most remember Tom standing at the pedestrian crossing at 47 Upper Pitt Street making sure boys had regulation haircuts, ties properly on and Boaters in proper order etc and having a friendly chat to those including miscreants (unless they came back the next day without a haircut etc !!!).
My very happiest recollection of those times, however, involved the steps Tom/Toddy took to reestablish the Gilbert and Sullivan tradition pioneered in the 1930s by Father Comerford SJ and Mr William Caspers.
In the 1930s and I think in 1936 if I am not mistaken my late Uncle Steve Murtough and the late Frank Gormly QC played two of the three little maids in the Mikado.
Billy Caspers, still going strong at 90 plus taught me and my contemporaries in 1963 how to sing Tit Willow from the Mikado along with Oh What a beautiful morning, Wooloomooloo, Just a Brown Slouch hat etc.
This Gilbert and Sullivan revival involved productions between 1969 and 1971 of HMS Pinafore, The Mikado and the Pirates of Penzance. For anyone who shares in whole or in part my passion of Gilbert and Sullivan I can recommend a search on You Tube where multiple first class full costumed productions of most if not all of the fourteen Savoy operas can be found. The Gilbert and Sullivan Archive is also worth looking at (Type Gilbert and Sullivan Archive in Google).
Ian Grant sent me the Riverview Viewpoint issue 1 of 2013 which contains a very suitable obituary.
It is interesting I think that although Tom was generally known as "Toddy" other than at St Aloysius' he was for the most part I think there known as Tom. I could be wrong but I don't recall Tom being generally known as Toddy at SAC.
I suspect that this is because to old Aloysians there was only ever and only ever could have been one "Toddy" namely the late Father Patrick Morgan SJ !!! (an impossible act to follow !!!).
I didn't manage to get to the Requiem Mass and funeral on 1 February but I am reliably informed that St Mary's was filled to overflowing. The Vigil Mass was concelebated by 19 priests including two of my former teachers Father Michael Stoney and Father Bob Walsh (in his earlier life a medical practitioner) who was looking pretty good at around 95 I suspect. Father Geoff (Fritz) Schneider (now over 100 and still teaching wasn't there).
Most if not all of the Jesuits such as Father Gerry Drumm SJ, Father "Butch" Connelly, Father "Boris" McEvoy SJ, Toddy Morgan SJ, Geoff James SJ etc who were partial to a cigarette and the odd drop or two of whisky didn't get to their 90's or beyond. Their somewhat shorter lives in terms of years also left an indelible mark on the lives of many.
The Vigil Mass was a moving experience for both Ian and myself. There is no suitable single word in the English language which can describe the feelings it evoked in me. In Japanese there is a word, "NATSUKASHI" which conjures up a concept of nostalgia, bringing back happy memories of a bygone era and of a special person who made had an indelible impression on my life.
Tom convinced me that although I lacked a wonderful singing voice ( like Martin Cooke, Nick Lush, John Grinter and others who were gifted) and unlike the late Pip Lindsay, Peter Cavenagh and others couldn't bowl, bat or field in cricket or play rugby union to save my life that I could nonetheless make a worthwhile contribution in other areas of the Aloysian Community.
I am sure that there it would be a unanimously held view that Tom or Toddy was a remarkable person. Requiescat in pace

Best Regards to you all
Chris Murtough
Stations in the life of Father Tom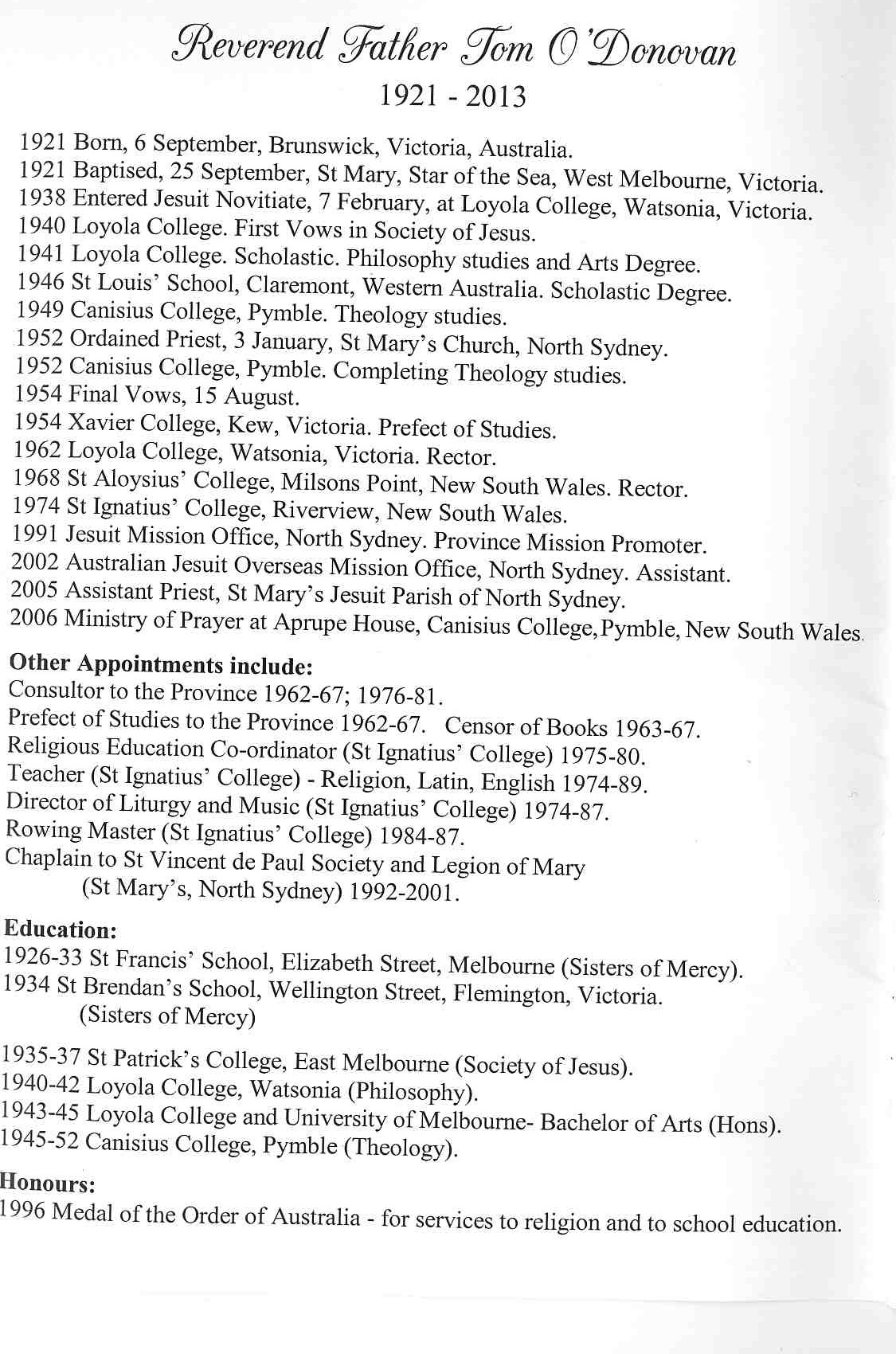 the images produced are from the mass booklet produced by Maurer Family Funerals
whom we gratefully acknowledge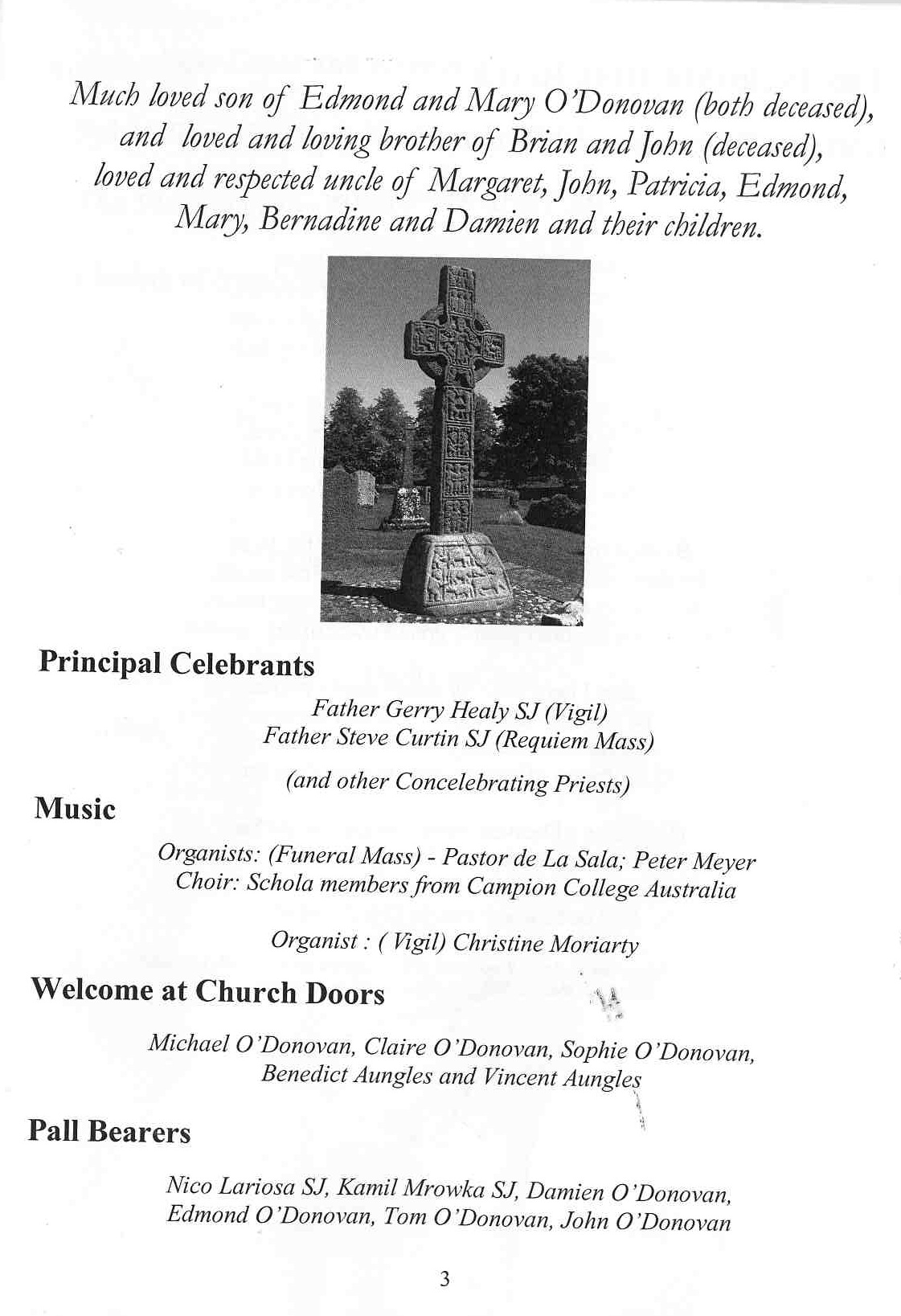 Requiem Mass on Friday 1.2.2013
at St Mary's Ridge Street North Sydney
Photos of the life of Fr. Tom O'Donovan SJ
Fr. Tom as a young scholastic and as a young priest with his parents in 1952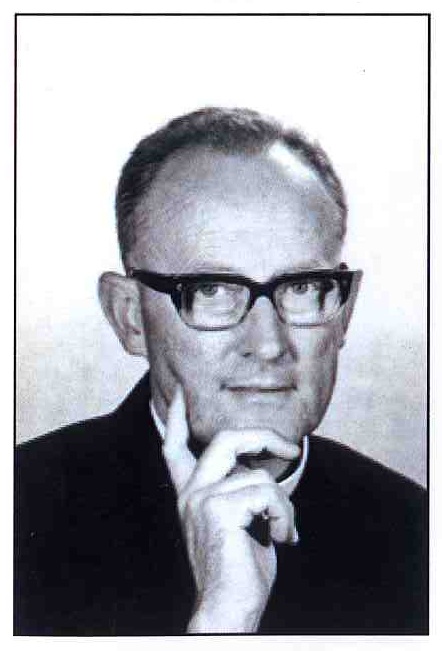 Fr Tom O'Donovan as rector of St Aloysius' College
1968-1973
The classic image of Fr Tom O'Donovan SJ
at 3.15pm every single day
from our days at the College 1968-1973.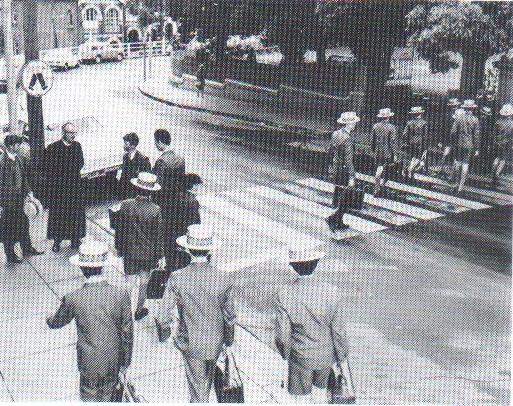 Good afternoon fellas!

Ay Melrose! do that coat up fella
and
Wiblin straighten that boater!
The Rosary was the central prayer in the life of Fr Tom O'Donovan
May he Rest in Peace