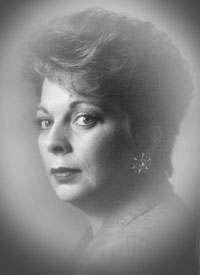 Click on the above image to download my recent CV photo
Rosamund Illing, one of Australia's most distinguished operatic artists, received her Bachelor of Music degree (with Honors) from the University of Adelaide, then returned to her native England to study at the National Opera Studio in London and the Britten Pears School at Aldeburgh. Her awards include the Gold Award in the Benson and Hedges Competition, and a scholarship from the Royal Society of Arts for further study in Italy. Her teachers have included Tito Gobbi, Geoffrey Parsons, Eric Vietheer, Sir Peter Pears, Janice Chapman, David Harper, and Ettore Campogalianni (the noted teacher of Luciano Pavarotti and Mirella Freni).
Ms. Illing made her operatic debut as the Governess in Britten's The Turn of the Screw with the Barbican Opera in 1978. In the immediately following seasons, while still a member of the National Opera Studio, she made her debut with Glyndebourne Touring Opera (Mimi and Nannetta) and sang her first Verdi Messa di Requiem in Singapore. Ms. Illing began a series of important debuts in 1982--first as Oscar at Welsh National Opera (repeated in Vancouver during the 1984 WNO tour), then at the Wexford Festival in Alfano's La Legenda di Sakuntala (produced by Nicholas Hytner). In 1983 she returned to WNO for her first performances as Madama Butterfly, which has become one of her signature roles, then debuted at the Australian Opera as Zerlina. In 1984 she returned to the AO in several roles--Gilda, Valencienne in The Merry Widow, and Norina, the last two of which were conducted by Richard Bonynge.
1985 brought Ms. Illing's debut at Victoria State Opera (as Musetta), as well as her first performances as Blanche in Dialogues of the Carmelites at the AO and a return engagement in Madama Butterfly at WNO. The following year saw her first Butterfly performances at the AO, her debut with Lyric Opera of Queensland (Mimi), the First Lady in Die Zauberflöte for the AO, and her debut at English National Opera (first as Madama Butterfly, then as Micaëla). Ms. Illing made her debut at the Royal Opera, Covent Garden, in 1987, as Musetta, opposite Plácido Domingo as Rodolfo. She also returned to Canada, this time to Vancouver Opera, as Madama Butterfly, and sang her first performances as Marie in La Fille du Régiment at the AO. In 1988 she performed Musetta in the famous AO production of La Bohème which was videotaped by the ABC and which received the Emmy Award for the Best International Opera Production.
In the following several years, in addition to reprising signature roles such as Cio-Cio San and Musetta for companies in Australia, New Zealand and the U.K., she sang her first Despinas and Neddas at the AO, and her first Elviras in L'Italiana in Algeri at the VSO. The Così production also was videotaped She also began to add some of the great Mozart ladies to her repertoire--her first Donna Annas at the State Opera of South Australia (reprised the following year at the AO), her first Fiordiligis at the VSO, and her first Vitellias at the Australian Opera. In the early 1990's she also recorded Beethoven's Missa Solemnis with Sir Charles Mackerras for the ABC Classics Label, performed the Verdi Requiem at the AO under Carlo Rizzi, and made her first film recording, the soundtrack of Citizen Kane, by Bernard Hermann in which she sings Salaambo's aria. She also sang Micaëla in the Steven Pimlott/World Production of Carmen in Rod Lever Areana, opposite Maria Ewing in the title role, and conducted by Jacques Delacôte.
1993 took Ms. Illing again to London, to perform in a gala concert at Australia House with the late Larry Adler and Geoffrey Simon and the London Philharmonic Orchestra to celebrate the birth of the Australian composer Arthur Benjamin. She also reprised Donna Anna and Oscar at the Australian Opera and recorded her first solo album, Romantic Concert Arias, with the Melbourne Symphony Orchestra, for the ABC Classics Label. In 1994, in addition to repeat performances as Madama Butterfly in a new production for the VSO, she added yet another Mozart lady to her repertoire, Elettra in Idomeneo, and her first dramatic Verdi role, Amalia in I Masnadieri (again conducted by Maestro Bonynge), both at the AO and both to great critical acclaim. During the next two seasons Ms. Illing added three more important roles to her repertoire--the title role in Handel's Alcina, for the AO's Melbourne season (conducted by Jane Glover), Rosina in Il barbiere di Siviglia, for the State Opera of South Australia, and Liù for the AO (in Arena performances with Audrey Stottler in the title role and Ermanno Mauro as Calaf). She also made a sensational debut in Germany, reprising Elettra in Idomeneo at the Frankfurt Opera. Together with acclaimed pianist David McSkimming, she recorded a disk of Duparc and Poulenc Songs, which was released on the Chandos label to outstanding critical response, winning the Soundscapes Magazine's best vocal CD of the year.
Throughout her career, Ms. Illing also has remained an active concert artist. In addition to the previously mentioned engagements, she has sung The Messiah with Roger Norrington, Beethoven's Ninth Symphony with Edo de Waart, Mahler's Eighth Symphony with Hans Vonk, numerous works on a tour of France with Sir John Eliot Gardiner, a number of gala concerts with Richard Bonynge, Strauss' Four Last Songs with Stuart Challender, Mahler's Second Symphony conducted by Gilbert Kaplan and Fourth Symphony, the Brahms Requiem, the Vivaldi Gloria, and Vaughan Williams' Sea Symphony. She also has recorded Mahler's Second Symphony with Stuart Challender and Beethoven's Ninth Symphony with the Sydney Symphony Orchestra.
In 1997 Ms. Illing reprised Donna Anna for Opera Australia and Vitellia with Christopher Hogwood, and sang a Schubert Bicentennial Concert (also recorded) with the Tasmanian Symphony Orchestra and her first Valkyrie in concert performances of Die Walküre with the Sydney Symphony under Edo de Waart. She also presented a gala French recital at the Melbourne International Festival, with pianist David McSkimming, which was greeted with a standing ovation and universal critical acclaim. [Review]

In 1998 Ms. Illing enjoyed a huge success when she added yet another new role to her repertoire--Mme. Lidoine in Dialogues of the Carmelites, for Opera Australia in Melbourne, for which she received the coverted Green Room Award for outstanding performance of the season. She also sang Beethoven Ninth Symphony with Sir Neville Marriner in Brisbane, then added Marguerite in Faust to her list of heroines, in Opera Australia performances in Sydney. Finally, she recorded a disk of Massenet arias with Maestro Richard Bonynge and the Opera Australia Orchestra, which has just been released, under the title Amoureuse, on the Melba Classics label. [Review]
In 1999 Ms. Illing reprised Vitellia with Opera Australia, in critically and publically acclaimed performances, and sang a Gala Concert of the Canteloube Chants d'Auvergne with the Opera Orchestra conducted by Simone Young (recorded for subsequent radio broadcast). She also starred in Opera Australia's Millenium Eve Gala at the Sydney Opera House.
Ms. Illing began 2000 with a performance of Beethoven's Symphony No. 9 at the Perth International Festival; a reprise of Marguerite in concert performance with West Australian Opera; and as soloist in the Opera in the Market concerts with the State Orchestra of Victoria in Melbourne. In July 2000 Ms. Illing traveled to Sapporo, Japan, as head of the voice faculty at the Pacific Music Festival, the "Tanglewood of Asia" founded by the late Maestro Leonard Bernstein and directed that year by Maestros Michael Tilson Thomas and Charles Dutoit. Later in the year she starred in the Opera Australia Verdi Gala at the Sydney Opera House and sang more performances of Beethoven's Symphony No. 9 with Maestro Edo de Waart at the Concertgebouw and elsewhere in the Netherlands.
Ms. Illing began 2001 by returning to Perth to star in the West Australian Opera Verdi Gala, and to Sydney for performances of the Verdi Requiem under Maestra Simone Young. In April and May she sang her first Amelia in Simon Boccanegra (in acclaimed performances with Sergei Leiferkus in the title role) and reprised the Verdi Messa di Requiem for Opera Australia in Melbourne, also conducted by Maestra Simone Young. Later in the year she also returned to both the Sydney Symphony Orchestra and the Queensland Symphony as soprano soloist in Beethoven's Symphony No. 9 (the former in performances under Maestro Edo de Waart), then sang an all-Tchaikovsky program with the Tasmanian Symphony Orchestra in June.
Ms. Illing is represented internationally by Cameron Artists International Ltd and for concert work within Australia by Fanfare Artists Management
About Rosamund

Repertoire List

Audio Clips

Video Clips

Photo Gallery

Guest Book

Home