JOHN BROWNLEE
baritone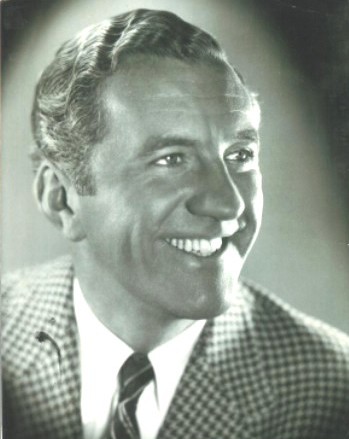 *7.1.1900 Geelong, Australia

+ 10.1.1969 New York, USA

MEMORIAL WEBSITE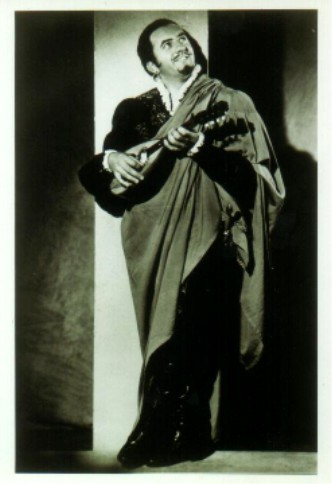 John Brownlee as Don Giovanni
Glyndebourne 1935
The children of John Brownlee have graciously given their consent
to the creation of this memorial website and to whom it is sincerely dedicated.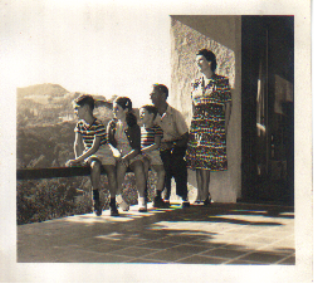 The Brownlee family
Los Angeles 1941
photos taken by
Ken Neate
Australian Tenor
and Brownlee protégé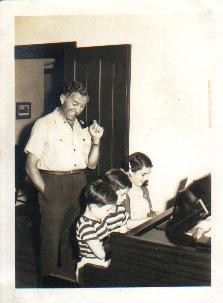 for
Delphina Brownlee-Bashkow
Donald Brownlee
Gordon Brownlee

In loving memory of their great father
John Donald MacKenzie Brownlee.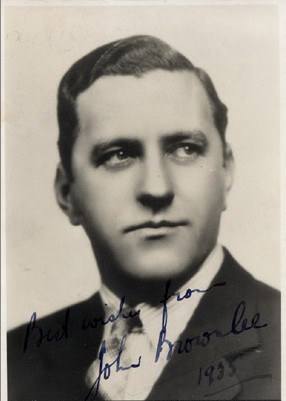 John Brownlee
A Portrait
By

Michael Bott
Walking past the small recital theatre attached to New York's Carnegie Hall on my way to a favourite deli, I noticed the name Delphina Brownlee on a poster outside. Knowing that the Australian baritone John Brownlee had lived in New York for many years I soon imagined that there was some family connection, but I thought no more of it at the time. I finally met Delphina Brownlee Bashkow in 1980, and learned that she is the eldest of three children born to John Brownlee and his Italian wife Carla.
The new century was barely a week old when John Donald MacKenzie Brownlee was born on January 7, 1900 at Geelong about 60 miles (96kms) from Melbourne, the son of James and Isabelle Brownlee (nee MacKenzie).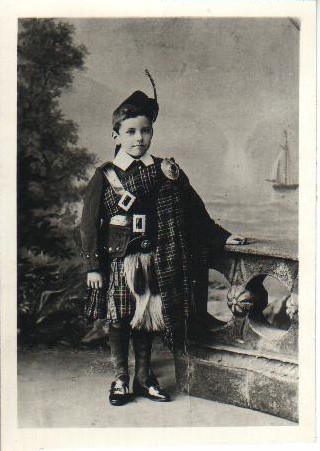 John Brownlee aged 7
He came from a musical family. His father had a fine voice and when John was only six, taught him the cornet which he later played in the Geelong Municipal Band. After a spell at Osborne Naval College he began to study accounting while taking lessons to develop a fine natural baritone voice. Brownlee was only twenty when he entered the South Street Eisteddfod at Ballarat, winning the vocal section, the youngest person ever to do so. He began to study with the well known Melbourne teacher Ivor Boustead (later teacher of another celebrity, the soprano Marjorie Lawrence) and in 1921 moved to Melbourne at Boustead's suggestion where he appeared in a number of concerts. It has often been said that Nellie Melba discovered Brownlee who she heard singing at a concert, but in point of fact, following a period of tuition Boustead arranged an audition for his pupil before Melba who heard him at the Melbourne Conservatorium.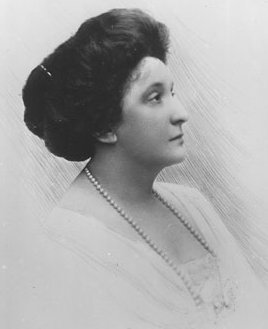 Dame Nellie Melba
1861-1931
source:/www.cantabile-subito.de
DUET
Dite alla giovine
La Traviata Giuseppe Verdi
Dame Nellie Melba and John Brownlee
Piano - Harold Craxton
HMV 1926
source/click: Hamburg Archive of Vocal Art
please click
Brownlee was twenty-two at the time and the event turned out to be the turning point of his life. "You have a wonderful voice, well produced, good pronunciation, and should go to England as soon as possible", Melba told him, offering to help Brownlee pursue his career, Invited to Coombe Cottage, her home at Lilydale, Melba gave him a great deal of invaluable advice predicting that he would one day enjoy world-wide fame. True to her word Dame Nellie did what she could to help Brownlee secure funds for study in Europe and during a visit to Geelong persuaded the major and the town's choral union to adopt the young baritone by establishing the Brownlee education Fund. Geelong's fund raising efforts went well and his farewell concert on November 16, 1922 alone raised over 500 pounds. Five weeks later the Christmas night performance of Handel's Messiah with the Melbourne Philharmonic Society saw Brownlee singing the bass role:-
"Much interest was taken in the performance of Mr John D. Brownlee, who may be praised for an example of thoroughly sound singing in the bass role. His declamatory style is intelligent, he has a marked sense of rhythm and phrasing, and the quality of his voice is at most times almost persuaded his hearers to disobey the wise injunction that they should not disturb the continuity of the great work with any applause."
The Australian Music News, February 1, 1923
Early in 1923 Brownlee took ship for England where Melba had arranged an audition with the Algerian-born baritone Dinh Gilly (1877-1940) who was teaching in London. Still active as a principal artist at Covent Garden, Gilly would prove the ideal teacher for the aspiring Australian. As a young man, he had studied in Rome with Antonio Cotogni, perhaps the most famous baritone of his day and later the teacher of the legendary Jean de Reszke and many other celebrated artists , among them Beniamino Gigli. Dinh Gilly had also been trained at the Paris Conservatoire and was able to teach the young Brownlee the classic Italian method of voice production he had learned from Cotogni, as well as polished phrasing and other elements of fine French style. By this time Gilly appears to have alternated his career and his teaching activities between London and Paris and so Brownlee left for the French capital where he moved into a pension run by a Russian Émigré. Another guest was a young Italian, the Contessa Carla Oddone di Feletto, who was in Paris studying French literature at the Sorbonne. She would become Mrs. Brownlee several years later.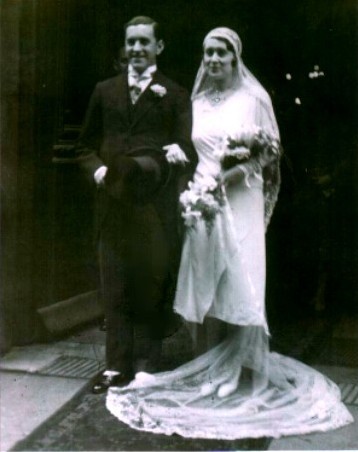 John Brownlee and Carla Brownlee
nee Countess Carla Oddone di Feletto
on their wedding day at
St. Pierre de Chaillot
Paris 29.11.1928

SONG
Passing By
Henry Purcell
piano Percy Kahn
circa 1929
from the Brownlee Family Archive
please click

Real Media - Windows Media
By the winter of 1925-1926 Brownlee had made excellent progress under Gilly's guidance and was invited to join the company at the Trianon Lyrique, a theatre in Montmatre, where opera was given at weekends. Performing first in Lakme, then Mireille and La Traviata he always regarded this as an apprenticeship period.
About this time Melba re-entered his life and characteristically soon took an active interest in his studies. Impressed with his progress she invited him to appear at her famous Covent Garden farewell on June 8, 1926, when Brownlee sang Marcello in Acts 3 and 4 of La Boheme opposite his celebrated mentor. A little earlier Melba had arranged a recording test with the Gramophone Company Limited in London and before long Brownlee became an HMV artist recording two duets with Melba and other material.
DUET
Entrate - C'e Rodolfo
La Bohème - Giacomo Puccini
Dame Nellie Melba and John Brownlee
Live from Covent Garden 8.6.1926
source Hamburg Archive of Vocal Art
please click
Real Media - Windows Media
Returning to Paris, in 1927 he was invited to the Opera and made his debut as Athanael in a matinee performance of Massenet's Thais, a role he would repeat at the Australian premiere of the work on June 16, 1928 when, on leave from the Paris Opera, he joined a company brought to Australia by Nellie Melba and the J.C. Williamson organisation which gave a season of opera in Melbourne and Sydney introducing artists like Toti Dal Monte, Apollo Granforte and Francesco Merli, to Australian audiences, as well as mounting the Australian premiere of Puccini's Turandot. Home after more than five years in Europe, Brownlee had an excellent reception from both public and critics and his appearances included a triumphant concert in Geelong.
His artistic progress throughout the 1920's was rapid and included successful performances at Covent Garden and the Paris Opera, along with a number of European recital and concert engagements. In 1930 Brownlee made his Monte Carlo debut as Petronius in the opera Quo Vadis by Nouques and in the same season appeared in Thais and Rigoletto before returning to Covent Garden for the opening night of the spring season (28.4.1930) an Aida with Eva Turner. After this he was seen in Rigoletto, Romeo et Juliette and Pelleas et Melisande, of which Ernest Newman wrote:-
"The Golaud of John Brownlee was as great a piece of work as we have seen this season. His voice is as musical an organ as could be wished, and he seems to have, in addition, an instinctive sense of dramatic psychology and an extraordinary taste restraint."
Before the war he would return to Covent Garden in 1934, 1935, 1936 (when he was also heard in London in a concert performance of Berlioz Damnation De Faust with Ninon Vallin and the Irish tenor John O'Sullivan under Beecham) and in the season of 1936-1937 in a number of additional works which included Tosca, Barbiere and Verdi's Ballo in Maschera.
It could be said that Brownlee's international career really got underway in 1930 and after Covent Garden he appeared in Barcelona during the season of 1930-1931 at the Gran Teatro del Liceo in Aida with the Hungarian soprano Maria Nemeth and in Hamlet by Thomas with Mercedes Capsir. Following his season in Spain, in 1931 Brownlee took ship for South America where, at the Teatro Colon, Buenos Aires he was seen in Massenet's Manon with Vallin and Thill, Cavalleria Rusticana with the celebrated Italian soprano Giuseppina Cobelli and Pelleas and Melisande. John Brownlee made his debut at the Opera Comique, Paris in January 1934 where he appeared in Tosca, Le Roi dys and Bizet's Pecheurs de Perle, and in the summer, following appearances in Egypt with fellow Australian Margherita Grandi, he was a guest artist at the Theatre Antique d'Orange where he appeared in Thais and Wagner's Tristan before concerting in Ostende. In January 1935 he was seen at the Theatre Municipal, Strasbourg in the first French performance of Handel's Julius Caesar, a production mounted to mark the composer's 250th birthday.
ARIA
Vision Fugitive
Herodiade - Jules Massenet
conductor - Louweryns
HMV 1929
from the Brownlee Family Archive
please click
Real Media - Windows Media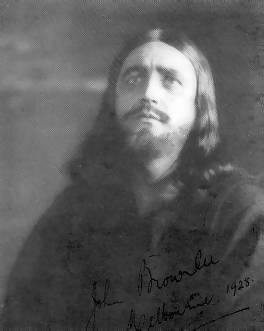 as Athanael in Thais
1927
L'Opéra National de Paris
Brownlee's career was of only nine years duration and he was already established as an artist of international reputation. It was at this point that the singer began his association with the composer with whom he is most identified, Mozart. The event which launched this aspect of his career was his 1935 Glyndebourne debut in Cosi Fan Tutte during the festival's second season. Well schooled and elegant of manner Brownlee's Don Alfonso and Don Giovanni would become regarded as models of Mozart style for the next two decades, while the Mozart recordings the singer made for the Gramophone Company as a Glynbourne artist have remained in the catalogue for six decades.
In November 1935 Brownlee joined Eva Turner, Sabine Kalter and Dino Borgioli on a lengthy recital tour of the U.K. and Ireland with Ivor Newton at the piano. Organised by Harold Holt, this was scheduled to last until March of 1936. About a year later on February 17, 1937 the singer made a successful American debut at the Metropolitan Opera House showing a voice of quality and style in Rigoletto. At seasons end, critic Olin Downs reviewing the seasons singers for the New York Times reported:
"Among the men came Brownlee whose authoritative and sincere presentation of his roles was needed at the Metropolitan, if only as an example of what it means really to have learned the sound traditions of celebrated baritone parts".
Aria
Di Provenza
La Traviata - Giuseppe Verdi
with kind permission of the
Metropolitan Opera
from a live Broadcast 1937
please click
Real Media - Windows Media
John Brownlee would remain with Metropolitan Opera, which soon became the centre of his artistic activities, for twenty years appearing there in 33 roles, in a total of more than 500 performances, 348 in New York and the remainder on tour with the Company in Philadelphia, Boston, Baltimore and other cities.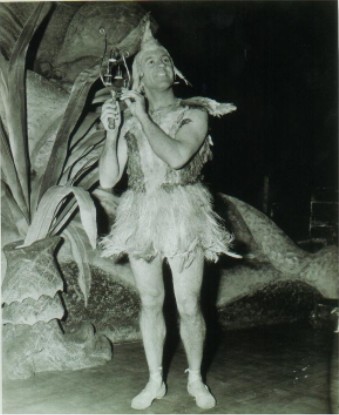 as Papageno
photo with kind permission of the
Metropolitan Opera New York
circa 1940's
A major sound chronicle of his many performances at the Metropolitan Opera House has survived in the form of acetate transcriptions of Met broadcasts which have been reissued on LP and CD. These include performances of Barbiere, Boheme, Carmen, Nozze di Figaro, Louise, Romeo and Juliette, Zauberflöte and other works. In addition to his appearances with the Metropolitan, Brownlee also sang with the Chicago Civic Opera and the San Francisco Opera where he had a fine reception when he opened the 1940 season in Nozze di Figaro with Stevens, Say and Pinza, under the baton of maestro Erich Leinsdorf, returning in later seasons when he was seen in Madame Butterfly, Romeo and Juliette and other works.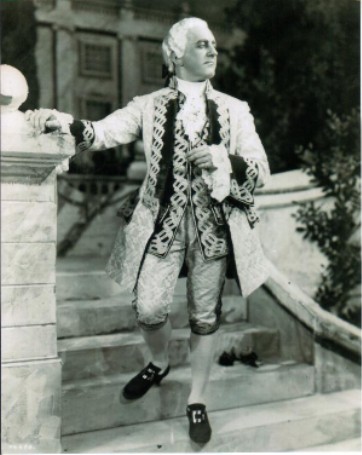 Count Almaviva
1940
photo with kind permission of the
Metropolitan Opera New York
He sang in Brussels and Antwerp in the spring of 1939, and with the outbreak of hostilities in Europe spent the war years largely in the United States where he also appeared as soloist with the leading symphony orchestras, including the Philadelphia Orchestra under Eugene Ormandy, as well as filling numerous concert and recital engagements which saw him ranging far and wide throughout North America. Brownlee sang at the Palacio de Bellas Artes, Mexico City in the summer of 1944 appearing in Don Giovanni and Nozze di Figaro under Beecham's baton. He was engaged by Cincinnati Zoo Opera in 1946 and the following year returned to the Covent Garden stage making his re-entry on October 4, 1947 in Nozze di Figaro, later singing Papgeno in Die Zauberflöte after appearances with the Glyndebourne Company during the Edinburgh Festival's inaugural season
Ever a loyal Australian, the singer returned to Australia throughout his long career, usually for concerts and recital appearances. In 1952 Brownlee was back early in the season under contract to the Victorian National Opera, following this with concerts under the direction of the Australian Broadcasting Commission, after which he was seen in New Zealand on a tour with N.Z.B.S. which took him from Auckland to Invercargill. While visiting New Zealand, he also gave concerts with the National Orchestra, enjoying a warm reception.
Brownlee's long career at the Met came to an end in 1957 with his final appearance on March 14 in Wagner's Die Meistersinger. By this time he was already a teacher at New York's Manhattan School of Music where he succeeded Friedrich Schorr, though with his retirement from the Met he continued his concert and recital appearances for several years more.
Opera and operetta singer, successful teacher (his pupils include the bass Ezio Flagello) recitalist and concert artist, indispensable interpreter of Mozart operas, versatile musician, Brownlee sang more than 90 parts and roles in opera, operetta, oratorio and musicals in a career which spanned more than three decades. His was the art of a finely schooled singer and a truly distinguished artist.
John Brownlee died in New York in January 1969.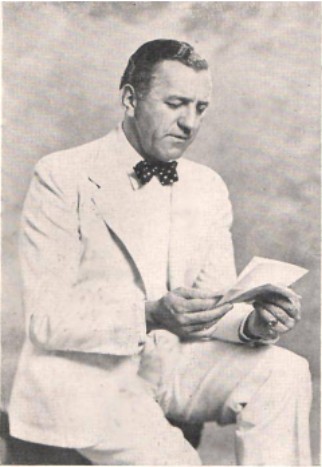 John Brownlee
circa 1947
Biographical notes and research by Michael Bott: opera historian, Hamilton Bermuda and printed with his kind permission.
Biographical notes approved by Delphina Brownlee-Bashkow.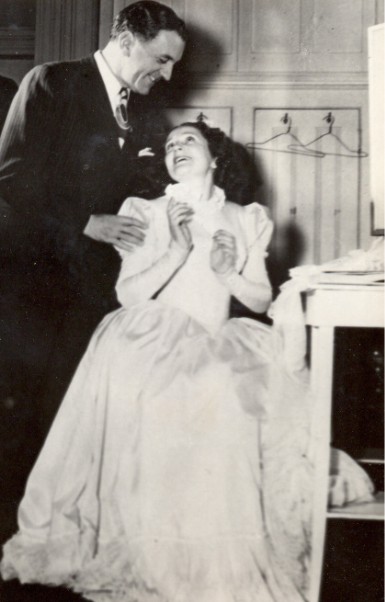 The Swedish soprano Hjördis Schymberg made her MET debut in March 1947,
singing Susanna in Figaro with Pinza, Novotná, Brownlee et al, conducted
by Fritz Busch.
Please click link to Hjördis Schymberg's website
photo courtesy of Mr Björn Östlund which we appreciate.
http://home.swipnet.se/bjorn_ostlund/schymberg.htm
Homepage

Australian tribute

Audio Samples and Discography

Links

Contact