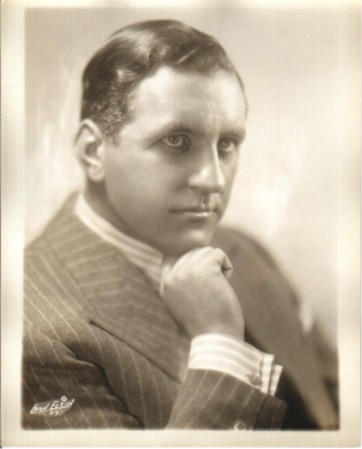 circa mid 1930's

JOHN BROWNLEE

Internationally acclaimed baritone and role model for all young singers


A reflection of his life and artistry from an Australian perspective


By
Martin Cooke

Ken Neate (1914-1997), the noted international Australian tenor, introduced the outstanding artistry of John Brownlee to me in Munich in 1985. Brownlee, the most successful protégé of Dame Nellie Melba, is indeed Australia's greatest international baritone, who apart from enjoying an exceptional career at the Metropolitan Opera, L' Opéra de Paris and Covent Garden, is best remembered as a crucial member of the legendary Glyndebourne Festival ensemble - in particular his interpretation of the role of Don Giovanni - which began in the 1930's.

Brownlee is a bridge between the last singers of the so called Golden Age at the end of the 19th century and the artists of the second half of the 20th century.

During my studies and talks with Ken Neate I was to learn that apart from being a superb artist, Brownlee was an exceptional and most generous person. In our private conversations Ken Neate often spoke of his affection and gratitude for the crucial part that John Brownlee played in his career. Neate was able to emulate some of Brownlee's fine personal qualities in his own life as well. As I went through Neate's considerable archive, which Mrs Neate generously donated to me, I discovered photos, press and other documentation that not only confirmed these facts but showed that Brownlee had helped Marjorie Lawrence in a similar manner. The decisive part he played in the lives of Ken Neate, Marjorie Lawrence and many years later, Ezio Flagello, is inestimable.
John Brownlee has been an inspiring role model in my life just as he was for Ken Neate sixty five years ago; he deserves recognition not only as a major international artist of his time and one of the most successful operatic singers to have come from Australia but also as an outstanding human being.
John Brownlee, was a man of handsome and noble appearance, blest with a good character, an amiable personality and a fine sense of humour. He was also a loving husband and father and enjoyed the affection and respect of many of his colleagues throughout his entire life.
please click
Link to the Ken Neate Memorial
and sound files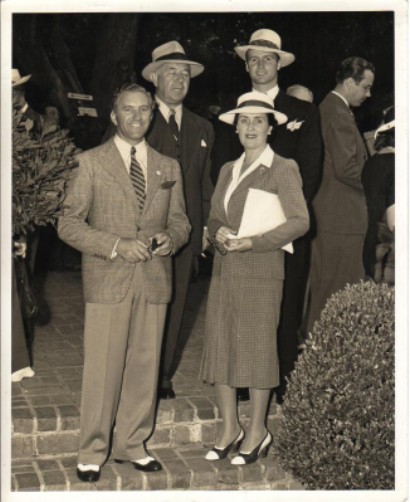 Mr and Mrs Brownlee in Hollywood 1941

at a fund raising garden party for the ANZAC fund
behind Hollywood actor Cecil Kellaway and Ken Neate

John Brownlee can only be described as an excellent role model for those aspiring to become lyric baritones on the professional stage.

The world of music and opera today is fortunate to have a considerable amount of his recorded legacy immortalised on compact disc. The exemplary Glyndebourne Festival recordings of Don Giovanni and Cosi fan Tutte of1935 and 1936, remain unsurpassed to this day for their beauty and authentic interpretation of the music of Wolfgang Amadeus Mozart.
A major contributor to the success of the Glyndebourne Festival ensemble was John Brownlee.

CHAMPAGNE ARIA
John Brownlee as Don Giovanni
Conductor Fritz Busch
Glyndebourne Festival 29.6.1935 - 5.7.1936
The vibrant sonority of his warm and noble voice, even legato, excellent articulation, natural musicality and convincing interpretation:
"Strike the ear, stir the senses, cause the spine to tingle and arrest the breathing of the listener. Purely intellectual accomplishment in singing cannot do this. No great singer can excite our sensory being without that high degree of technical mastery acquired only through years of serious study of the theoretical and physiological aspects of his art, such as controlled rhythmic breathing, exemplary articulation and diction, and poetic imagination illuminated by an innate musicality. These qualities plus beauty of timbre denote greatness."
Ken Neate from his book: p11. - "Great Singing"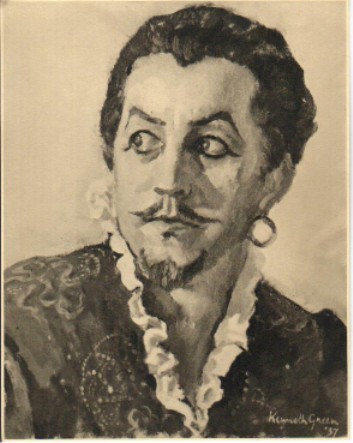 Portrait as Don Giovanni
Glyndebourne 1937
by
Kenneth Green
John Brownlee was indeed a rare phenomenon that tend to appear only once in a generation. He also possessed a very natural voice which was perfectly placed and he was able to maintain a natural spontaneity in his artistry throughout his entire career.
Apart from his innate musicality, intelligence and personal diligence combined with a flair for foreign languages, Brownlee was fortunate in receiving excellent training from the beginning: firstly with Ivor Boustead in Melbourne and then with the celebrated baritone Dinh Gilly (1877, Algiers- 1940, London) in London and Paris.
Ivor Boustead was a leading voice teacher in Melbourne and the tutor of Marjorie Lawrence as well. According to Lawrence, Boustead was an excellent, honest and conscientious tutor.
"His ability is testified to by the number of outstanding Australian singers to whose vocal careers he has given a sound beginning. I never have had to unlearn anything he taught me. When Madame Cecile Gilly accepted me into her Paris studio she took up where Boustead left off."

Marjorie Lawrence from her autobiography: p33. - "Interrupted Melody"

Dinh Gilly's vocal history is most interesting. Prior to his own outstanding career he had been a pupil of the eminent Italian baritone Antonio Cotogni in Rome who also taught Jean de Reske and Beniamino Gigli.
"The great baritone Antonio Cotogni was born in Rome in 1831 and grew up in the golden age of Belcanto. he made his debut in 1852 as Belcore, and soon after that he appeared on stage together with many singers who had participated in the first performance of the operas of Bellini and Donizetti, such as Mario, the tenor for whom the role of Ernesto, and Tamburini, the bass-baritone for whom the role of Malatesta in "Don Pasquale" were written. In 1867 he had his famous audition for Rossini, who gave him his personal advice on the interpretation of the role of Figaro.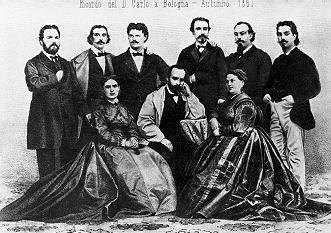 The cast of the first performance of
Verdi's Don Carlo
But Cotogni went into history as the greatest baritone of the Verdi repertoire. In 1867 he sang the role of Posa in the first performance of the Italian version of "Don Carlo" in Bologna, after going through the whole part personally with Verdi himself. In his later years Cotogni became one of Italy's most famous singing teachers; among his pupils were Dinh Gilly, Beniamino Gigli, Giacomo Lauri-Volpi, Giuseppe di Luca and Mariano Stabile. While working with these young singers he not only taught them the authentic belcanto style, but also told them what Donizetti, Bellini and Verdi had changed, added or explained during the rehersals for the first performances of their operas."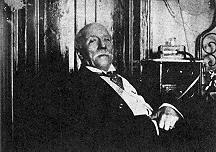 Antonio Cotogni
1831 - 1918
Please clickThe International Centre of Opera Studies Quote and source http://www.studienzentrum.at/belcanto_course.htm
Gilly, on the other hand, made his debut at the L'Opéra de Paris as the priest in the opera Sigurd by the French composer Ernest Reyer (1823-1909) in 1899. He also sang the role of Silvio in the L'Opéra de Paris premiere of Pagliacci in 1902. His other roles at L'Opéra de Paris included Gunther, Wolfram, Scarpia, Valentin and Amonasro. He sang 248 performances at the Metropolitan Opera from 1909 - 1914. Among his many roles were: Tonio and Silvio, Jack Rance, Dapertutto in Hoffmann, Amonasro, Barnaba in La Gioconda, Rigoletto and Conte Di Luna. At Covent Garden, where he appeared for many years, he sang in Fanciulla, Tabarro and Tosca. He also performed in Germany, Spain, Monte Carlo and in South America. He was highly renowned as a performer of enormous expression and brilliance.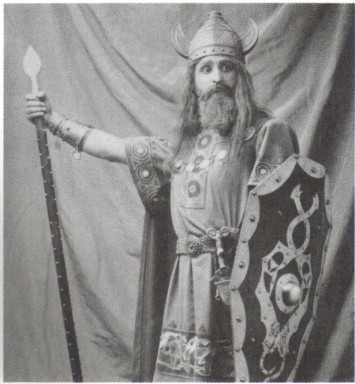 Dinh Gilly
1877-1940
as Gunther in Götterdämmerung
L'Opéra de Paris
circa early 1900's

Dinh Gilly, also a graduate from the Paris Conservatoire was then able to school Brownlee in both the Italian Bel Canto tradition which he inherited from Cotogni and in the essential elements of the elegant French style.
John Brownlee's linguistic skills were exceptional. According to Dame Nellie Melba, no English speaking foreigner had ever surpassed John Brownlee in his command of the French language (spoken and sung) during his time at L'Opéra de Paris. He also had the good fortune to have married an Italian in the person of Countess Carla Oddone di Feletto. When one listens to the Glyndebourne Festival recordings of Don Giovanni and Cosi fan Tutte one can hear that his Italian: above all in the recitatives was impeccable.
In addition, Dame Nellie Melba, Brownlee's mentor, had an enormous influence on him which meant that he was in the position to meet and experience the greatest artists of his day. His appearance aged just 26 at Melba's Covent Garden farewell performance as Marcello in acts III and IV, from La Boheme on Tuesday the eigth of June 1926, launched his career as a major international artist. L' Opéra de Paris was soon to follow.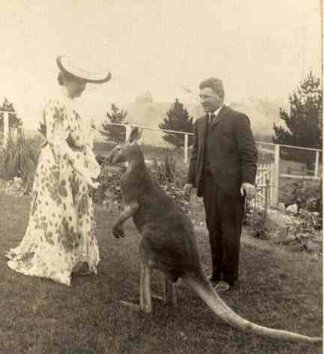 Dame Nellie Melba
circa 1902

A demonstration of Brownlee's outstanding vocal ability can be heard on his recording of Handel's Where e'er you walk from 1938 which is a singing lesson in itself: a beautifully sustained and even tessitura throughout its ambitus, yet applying to this a subtle and also beautifully profiled range of vocal timbre, expressive colour and dynamics. Brownlee's use of vowels, consonants and his clarity of diction in every language can only be described as exemplary. All these qualities enabled him to render an authoritative command of different styles, both literary and musical.
ARIA
Where e'er you walk
radio broadcast on WJZ 1938 USA
source/click:Hamburg Archive of Vocal Art
please click
Windows Media
The quality of John Brownlee's singing and artistry in the roles of Don Giovanni and Don Alfonso as heard on the legendary Glyndebourne Festival recordings of 1935 and 1936 remains unsurpassed seventy years later.

DUDUET
La Ci Darem La Mano - Don Giovanni
John Brownlee as Don Giovanni- Audrey Mildmay - Zerlina
Fritz Busch - Conductor
Glyndebourne Festival 1936.
Windows Media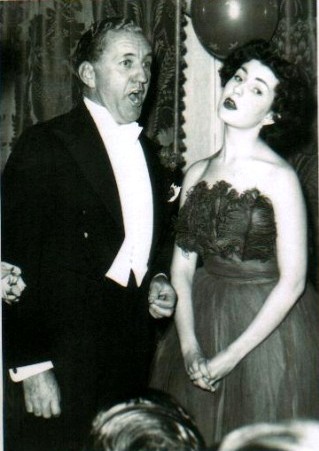 John Brownlee and his daughter Delphina Brownlee-Bashkow
singing La ci darem la mano together at a dinner party
early 1950's
photo source: the Brownlee Family Arhive
On the other hand, a major factor for the outstanding career of John Brownlee was not only his God given talents, but also the makeup of the man himself.

Apart from being endowed with a fine intellect, Brownlee was a hard worker and single minded in his desire to learn and succeed. He not only possessed enormous musical and vocal resources he also had an innate feeling for the stage and the lyric art. These attributes were combined with a natural affinity for comedy on stage and his serious and reflective countenance enabled him to interpret the tragic figures of opera convincingly, such as Rigoletto.
Another decisive factor in Brownlee's success was his incredible and natural acting ability. Delphina Brownlee-Bashkow wrote:
"When I was a student at acting school I would come home full of the miraculous insights I had been given that day and he would say: 'Well of course. I've been doing that for years!' There are very few artists who can do no wrong on stage, Callas and Sills come to mind quickly, and Dad was in their league. I remember well, as the Father in Louise, his hurling a chair downstairs as Louise fled offstage, and knowing that he was really throwng it at me! That was Method acting!"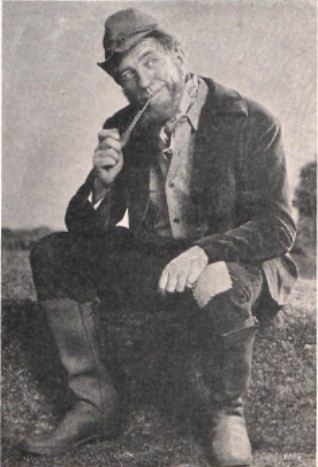 as the Father in
Hänsel und Gretel

Add to these qualities his fine appearance, good figure and the ability to move with ease and grace on the stage; John Brownlee was indeed the consummate artist.
Brownlee's basic good character, magnanimous spirit and positive disposition about life itself helped him to cope in a very unpredictable and often cut throat business. His biography Giovanni - The life and times of John Brownlee by Lloyd Bell has confirmed much that I had heard in conversation over the years with the late Ken Neate. Brownlee also possessed an unaffected humility, an even temperament and was truly grateful for the gifts and assistance he had received.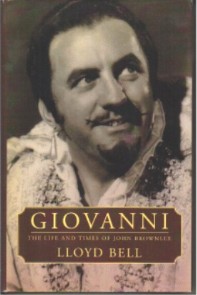 available through Xlibris Corporation
http://www1.xlibris.com/
to order this book
Orders@Xlibris.com
During his long career Brownlee displayed his gratitude by assisting numerous artists in achieving their career goals, in particular two of Australia's most significant international singers: the acclaimed Wagnerian soprano Marjorie Lawrence and the dramatic tenor Ken Neate. Lawrence also came from Geelong in Victoria and Ken Neate was born in Cessnock, New South Wales. At the time of Neate's audition for Brownlee he was known in Sydney as "The Singing Policeman" and was stationed in Redfern and Regents Street.

At the end of his Australian tour of 1939, Brownlee agreed to hear Neate in an audition at nine o'clock in the morning accompanied by Ivor Newton, the renowned English pianist. John Brownlee was so impressed that he called a press conference the day before his departure for New York and declared he would introduce Ken Neate to the Metropolitan Opera and to his own teacher, the great baritone of recording fame, Emilio de Gogorza.

Brownlee fulfilled his promise.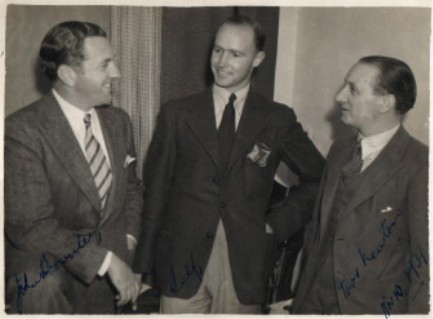 After the decisive audition
John Brownlee - Ken Neate - Ivor Newton
Sydney 1939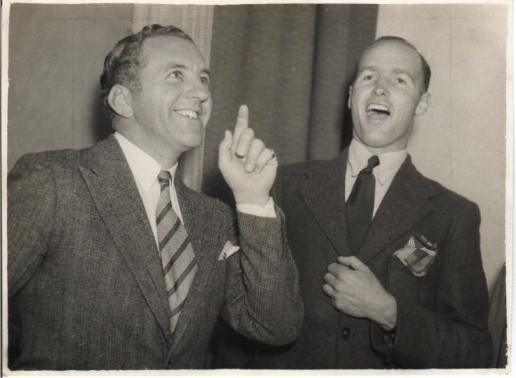 Under the watchful eyes of John Brownlee
Ken Neate sings a top C for the press

In California in 1941 Ken Neate worked intensively on his French repertoire, in particular Don Jose, with Brownlee and was like one of the family according to Delphina Brownlee. Neate also worked regularly with the legendary Lotte Lehmann on Lohengrin and German Lieder before auditioning for the great conductor Bruno Walter. This fortuitous meeting resulted in Neate beginning his career at The Metropolitan Opera as understudy to Charles Kullman in the forthcoming gala production of The Magic Flute.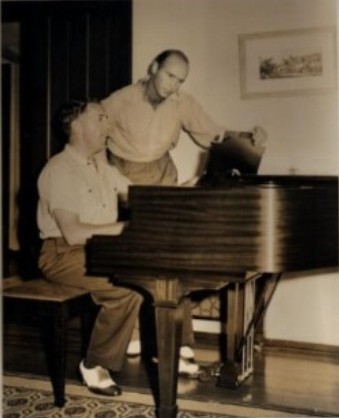 coaching at Brownlee's home in Los Angeles 1941
Unfortunately the crisis of Pearl Harbour on the 6th of December 1941 put a hold on Neate's American career. Unable to return to Australia to enlist in the Royal Australian Airforce, Neate went to Canada and joined the Royal Canadian Airforce and by the end of the war had attained the rank of pilot officer.

In fact Brownlee had played a similar role in the career of Marjorie Lawrence some twelve years earlier. Within a period of only five years, Brownlee at the young age of twenty seven had simultaneously established himself as a star of Covent Garden and the L'Opéra de Paris.
He was still climbing the ladder of success himself when he assisted Marjorie Lawrence who he heard sing in Melbourne at the studio of Ivor Boustead during his Australian tour of 1927. He introduced Lawrence to Cecile Gilly, the wife of Dinh Gilly also a celebrated teacher in Paris. Brownlee worked with Mme. Gilly as well when he was in Paris. After several years of intense vocal study Lawrence was to follow in Brownlee's footsteps at the Paris Opera.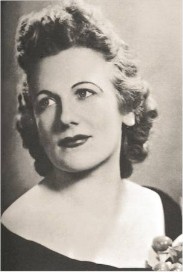 Marjorie Lawrence
source: www.cantabile-subito.de

Lawrence progressed to the Metropolitan Opera as well where she was a leading dramatic soprano in the Wagnerian wing and became the only soprano in the history of opera who was able to fulfil the requirements of Wagner in mounting Grane, the horse, bareback and gallop into the fire and then off stage while singing the Immolation Scene in Götterdämmerung.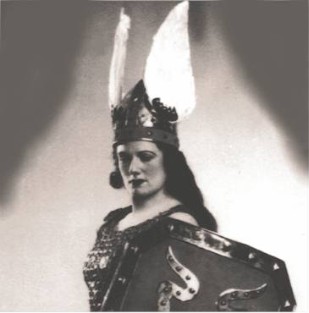 Brünnhilde
Metropolitan Opera
circa 1937
source www.cantabile-subito.de

Tragedy struck Marjorie Lawrence after a career of only nine years when she contracted poliomyelitis, however with great determination and will power she was able to overcome this enormous setback and returned to the Metropolitan Opera singing her great roles in a specially built frame.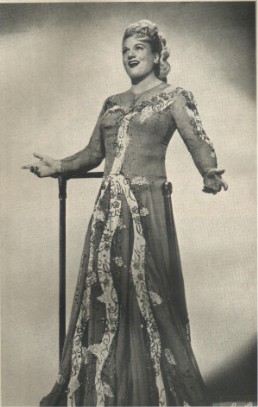 from the autobiography
Interrupted Melody


During this period of preparation to revive her career, Brownlee was the driving force behind a testimonial concert in her honour at the Met on 27.12 1942 in which she sang the Venusberg scene from Tannhäuser. Lawrence's personal success on that decisive night, re-launched her career as an unrivalled Wagnerian prima donna.
She later went on to become a professor in Voice at Southern Illinois University in the United States of America.

After the hostilities of World War II had ended, Ken Neate went on to make a noted career as a dramatic tenor in the most important houses of England, France, Italy, Germany, Austria and throughout Europe. He also had highly successful opera and concert tours in Australia with J.C. Williamsons, The Australian Broadcasting Commission and The Australian Elizabethan Trust in 1952, 1955, 1960, 1968 and 1970.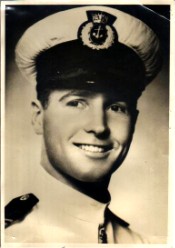 Ken Neate as Pinkerton in Brisbane 1937

Neate enjoyed a performing career of 38 years combining the last years of his performing life with the position of Lecturer in Voice and Opera Studies at the Richard Strauss Conservatorium in Munich, a position he held for ten years. However, like his role model Brownlee, Neate taught and assisted young artists throughout his entire performing career as well.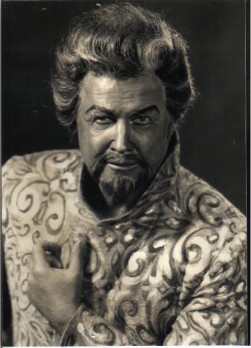 Ken Neate as Otello in his final performance
Innsbruck 1975

Brownlee was indeed an inspiring figure in the lives of Lawrence and Neate and it is interesting to note the similarities in the career paths of these three singers. They were all committed to education and passing on their knowledge and experience to the next generation. Like his mentor: Neate also became a fine producer of grand opera in Ireland and Austria producing the operas Il Trovatore, Don Carlo, Tosca, Samson and Delilah, Tannhäuser and Fidelio.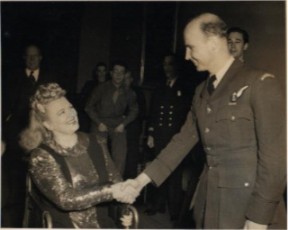 Marjorie Lawrence and Ken Neate New Year's Eve 1944
where they performed together
Another major Brownlee protégé is the renowned Metropolitan Opera bass Ezio Flagello.
In 1954 he won a Fullbright scholarship and studied in Rome with Luigi Ricci, who had also been the coach of Leyontine Price. As Flagello had received his degree from the Manhattan School of Music he returned to his Alma Mater to continue his vocal studies. Brownlee had just begun his association with the school and was head of the vocal deparment. After hearing him, Brownlee, invited Ezio Flagello to work with him at his apartment in the Dakota and at no expense.
After several months of study Flagello asked Brownlee to assist him in obtaining an audition at the Metropolitan Opera. Brownlee went to see Rudolph Bing personally and obtained his consent enabling Flagello to audition for the heats of the Metropolitan Auditions of the Air.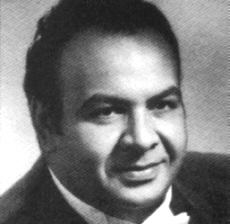 Ezio Flagello
Brownlee was able to assure Bing that Flagello was ready for the Met and mentioned that he had just returned from Europe where he had performed successfully at the Rome Opera. Ezio Flagello went on to win the audition: the prize being a Met contract. Flagello believes that without the intervention of John Brownlee he would not have been able to begin his Metropolitan career as early as he did.
According to Flagello, Brownlee's voice placement was perfect and he states that he cured him of imitating Ezio Pinza .

Brownlee was the most perfect Sharpless in Madam Butterfly recalled Flagello. In his first season at the Met he sang the role of Zio Bonzo with John Brownlee as Sharpless. He remembered Brownlee as a very distinguished gentleman: polite, understanding and helpful.
Flagello said:
"I finally came into my own…….thank you John Brownlee…. he was a wonderful human being."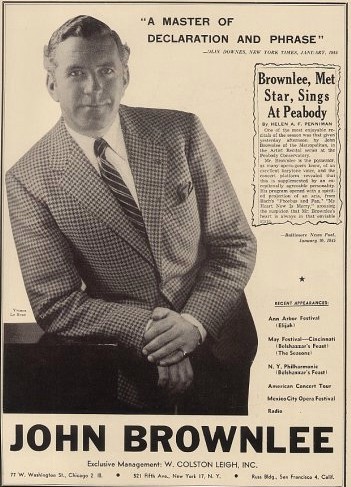 Brownlee was a person who had wide interests and involved himself in all aspects of culture and society. His skills in leadership, diplomacy and organisation were formidable and he showed himself to be a born public speaker. Brownlee knew how to present not only himself in public but also the matters about which he was passionate. This was revealed particularly during his time of leadership as President of the American Guild of Musical Artists from 1953-1967.
John Brownlee was also appointed director of the Manhattan School of Music, a title later revised to president, from 1956-1969. As president, Brownlee initiated the idea of relocating the School to the Morningside Heights neighbourhood; his untimely death occurred only months before his efforts were realised.
A Plaque was erected in his honour at the Manhattan School of Music:

Under his leadership the school's already excellent reputation was greatly enhanced, nationally and internationally.
The move to this building was his dream.
He was the principal factor in Manhattan's nine and one-half million dollars expansion program to make it possible.
His great achievement at Manhattan followed an outstanding career as a singer.
Born in Australia, he was a leading artist of the Metropolitan Opera, Covent Garden, the Paris Opera and the Glyndebourne Festival.
He served as President of the American Guild of Musical Artists from 1953 to 1967.

This memorial is erected by his admirers and friends.

Surrounded by his family, John Brownlee passed away on the tenth of January 1969 in New York after a valliant struggle with cancer. Mrs Carla Brownlee survived her beloved husband by eleven years and passed away on the fifteenth of August 1980. Delphina Brownlee-Bashkow, their daughter, has pursued a successful career on Broadway, in acting and television and has been a teacher of voice for many years: passing on her knowledge and experience to the next generation in the same spirit of her distinguished father.
SONG
Turn Ye To Me
traditional - arr. Lawson
John Brownlee - Gerald Moore piano
Gramaphone Company Ltd NFS 1929
please click
Windows Media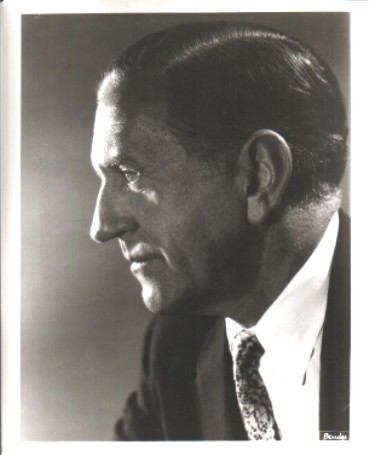 John Brownlee
circa 1960's
We would like to thank Mrs Delphina Brownlee-Bashkow most sincerely for her invaluable assistance in creating this website: in particular for the family history information, photographs and recordings from the Brownlee family archive which she has generously provided.


Suggested Reading:

Giovanni
The Life and Times of John Brownlee
by Lloyd Bell

available through Xlibris Corporation
www.Xlibris.com
to order this book
Orders@Xlibris.com

Portrait

Australian tribute

Audio Samples & Discography

Links

Contact